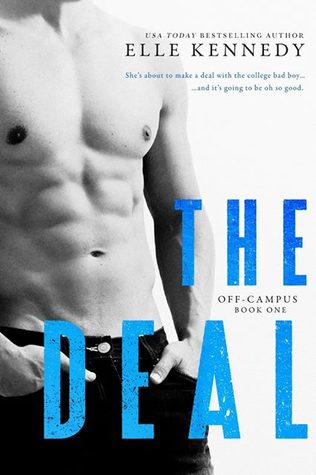 The Deal (Off-Campus #1) by Elle Kennedy
Publication Date: February 24, 2015 
Publisher: CreateSpace Independent
Synopsis:
Hannah Wells is crushing on Briar University's star football player in a major way. Making eye contact with him in their Ethics class is enough to turn her to mush. She just needs to get up the nerve to talk to him. If only Hannah's past experiences with men weren't keeping her from doing just that.
Hockey player Garrett Graham cannot afford to fail his Ethics class if he wants to keep playing for Briar. It looks like that's exactly what's going to happen, if he can't talk Hannah Wells into tutoring him. Garrett was hoping his way with women could help him sway Hannah, but she's the only girl at Briar who seems able to resist his charms.
When Garrett notices Hannah's crush on a Briar football star, he knows he can use the knowledge to his advantage. Garrett convinces Hannah that he can help her win her crush. The plan is fool proof — until one kiss turns into more.
My rating: 5 out of 5 stars
The Deal will be going on my list of favorite New Adult romances. It was so much fun to read! Garrett and Hannah's bickering was too funny.  I found myself laughing so many times.  I liked that Hannah didn't put up with his "king of hockey" attitude and didn't fall all over him like all of the other girls he was used to. They were so cute together. I also liked that not only was this a romance, but each of them was dealing with a deeper issue. It was cool to see them help each other through those issues.
Another thing I really loved was Garrett's hockey team roommates. Their interactions with each other couldn't have been more perfect! It was exactly what I would have expected from a bunch of players living together. I can't wait to get to read more of their stories in the future! I'm starting on the next book in the series, The Mistake, right after I finish writing this!
The Deal is definitely a book I would recommend. Just a warning to readers — It is a New Adult and not YA read. There is sexual content and alcohol references, so it is for mature readers only.
Other books in the Off-Campus Series: