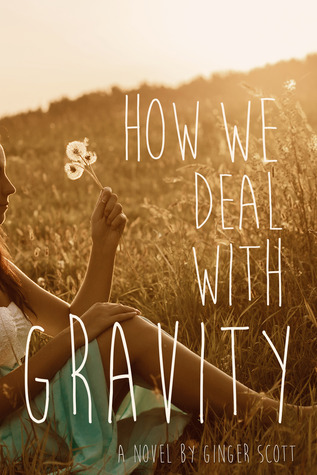 How We Deal with Gravity by Ginger Scott
Publication Date: June 11, 2014
Publisher: Ginger Scott
Synopsis:
Nothing in Avery Abbot's life has gone as planned. She dropped out of college to get married and have a baby. Then, her husband left her without a backward glance when their one-year-old son, Max, was diagnosed with autism.
Now, Avery plans her days around Max's needs. What she wouldn't give for someone to share her joys and pains with. But Avery knows her chance at love has passed. Or at least she thinks it has until Mason Street saunters back into town.
Mason's spent the last five years on the road with his band, living his dream–until it all came crashing down. With a dropped record contract and nowhere else to go, he ends up back where his love for music began: the Abbot house.
While Mason's rediscovering his love for music, he's also learning about the kind of person he is. He thought he and Avery were friends, but her reception of him is less than friendly. Can he prove to her that he's changed?
My rating: 5 out of 5 stars
How We Deal with Gravity is the first book I've ever read by Ginger Scott. A friend on Goodreads suggested it for a buddy read and since I always like the books the people in the group suggest, I decided to join in. I'm so happy I did!
How We Deal with Gravity sucked me in from the Prologue. It had me close to tears. I do not have a child with autism, but I do have a nephew with it. I could totally picture my sister-in-law as Avery. The selflessness Ginger Scott gives Avery is the same selflessness I see in my sister-in-law.  It made me love Avery's character even more.
And Mason. Oh, Mason. What a special guy. He may just be my new favorite book boyfriend. Mason starts out as kind of a jerk, but I loved the way he tackled learning that he wasn't all that. The way treats not just Avery but the entire Abbot family warmed my heart.
The writing and storyline were spectacular. Mason and Avery's chemistry was hot! There were even a couple of things I didn't see coming in the story. I honestly don't have even one complaint about it.
How We Deal with Gravity has cemented Ginger Scott's place as one of my favorite go-to authors.  I can't wait to read another one of her novels.