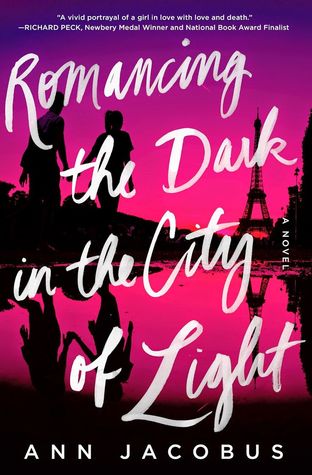 Romancing the Dark in the City of Light by Ann Jacobus
Publication Date: October 6, 2015
Publisher: St. Martin's Griffin
Synopsis:
Summer Barnes is stuck in France. She's living with her mom and redoing her senior year of high school after being kicked out of four boarding schools. Summer really needs to get on the right path and graduate high school, but she can barely make it through the day. If she could just meet the perfect guy, it would be the answer to everything. Her life would be so much better — maybe even worth living.
As she starts her new school and navigates Paris, Summer meets not just one guy but two. They're very different. Moony is a classmate with problems of his own. He brings out the best parts of Summer, parts she didn't know existed. Kurt is a handsome older man, but there's something alarming about him. He takes Summer to places she never thought she wanted to go.
Summer struggles with which version of herself she wants to be. Can she be as good as Moony thinks she is? Or is she stuck being as worthless as she feels when she's with Kurt?
My rating: 5 out of 5 stars
Romancing the Dark in the City of Light is a book that kind of snuck up on me. From the description, I thought it was going to be about a troubled girl looking for a guy to fix her. I knew there was going to be depression and suicidal thoughts. What I didn't expect was a story about a girl coping with not only her father's death but her own alcohol addiction.
I loved the way Romancing the Dark in the City of Light portrayed Summer's addiction. Her feelings of helplessness were easy to relate to. While I didn't necessarily like Summer, I could feel her pain. I wanted her to make healthy decisions and succeed, to rise out of the darkness.
Summer's two love interests, Moony and Kurt, added another whole dimension to the story. I loved Moony and his determination. It was amazing that he was willing to support Summer when it wasn't always in his best interest. Kurt was….well, he was different. I hated him, but I liked they way his character had Summer on the edge.
My absolute favorite thing about the entire book is the last 1/4 of the novel. Up until then, I was planning on giving it 4 stars. The writing was beautiful, but it was just so dark and depressing! I wanted at least a glimmer of sunshine somewhere on those pages! But then the last 1/4 of the book happened and I felt like I finally got it. I won't even hint at what happens, but it was enough to make me add that final star.
Romancing the Dark in the City of Light is truly a beautiful book about teenage substance abuse, suicide and family ties.
I would like to thank Goodreads and St. Martin's Griffin for the opportunity to read and honestly review Romancing the Dark in the City of Light.