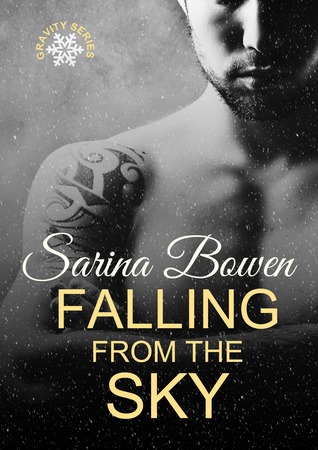 Falling From The Sky (Gravity #2) by Sarina Bowen
Publication Date: August 26, 2015
Note: Falling From The Sky is part of the Unconditional Anthology. Sarina Bowen will be donating her proceeds from the sale of this collection to the Christopher and Dana Reeve Foundation.
Synopsis:
Doctor Callie Anders doesn't take risks — especially where her heart is concerned. She's been burned once and she's not about to take that risk again. That's why she's keeping her distance from the incredibly handsome athlete that has shown up in her emergency room.
Freestyle snowboarder Hank "Hazardous" Lazarus had it all until an accident caused his world to fall apart. Now, he's stuck in a wheel chair wondering if he'll ever get back what he lost. The only bright spot in his life is a certain sexy doctor.
When the opportunity to run a new therapy department arises, Callie finds herself in constant contact with the one man that makes her want to take risks. She's going to have a hard time keeping things professional with the hunky participant who's determined to make her his.
My rating: 5 out of 5 stars
Falling From The Sky was an incredible love story! Watching uptight Callie slowly lose herself in "Hazardous" Hank was so much fun. And Hank. Oh, Hank. I couldn't help but feel for his losses. But I loved the way he fought back and ended up embracing his new life.
My favorite part of this story, though; was the way Sarina Bowen spotlighted issues that wheelchair bound men (and women) face daily. She did it with such care and compassion. I honestly felt like I was learning something along with getting a great love story.
Now, if you've read The Year We Fell Down by Sarina Bowen, you're probably saying, "Hey, wait a minute! Didn't she already write a story about a girl in a wheelchair?" Yes, she did. While some of the same issues were dealt with, the story was completely different and new. If you liked The Year We Fell Down, you'll like Falling From The Sky, too. But don't worry, you won't feel like you're rereading the same story.
If you're a contemporary romance reader, I would highly suggest reading Falling From The Sky by Sarina Bowen. It's the second book in the Gravity series, but can definitely be read as a standalone. There are some references to the characters from Coming In From The Cold, but you don't have to read it to enjoy book 2. I can't wait to read Shooting For The Stars!
**I received an ARC of Falling From The Sky in exchange for an honest review.
Other books in this series: