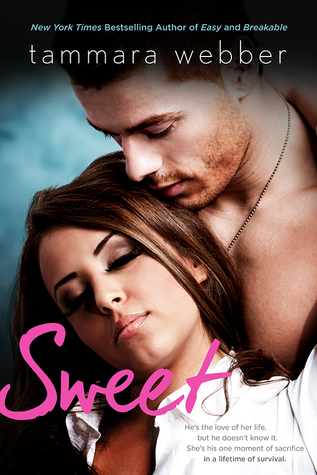 Sweet (Contours of the Heart #3) by Tammara Webber
Publication Date: April 27, 2015
Synopsis: 
Sweet is a spinoff of Easy and Breakable from the Contours of the Heart series. It is a standalone novel. While there are a couple of mentions of characters from the first two novels, you won't feel like you've missed anything if you haven't read them.
Bad boy Boyce Wynn is everything Pearl Torres Frank shouldn't want. He's from the wrong side of the tracks and doesn't care what the world thinks of him. But Pearl wants him. She always has. Pearl knows there's more to Boyce than the tough guy everyone sees.
Now, Pearl's home from college for summer. Before she heads off to medical school in the fall, she's determined to have Boyce. It doesn't matter what it may cost her.
Boyce has been fighting his obsession with Pearl forever. He's been waiting in the wings for her to be single. Now, she's home for the summer and it's his chance to make his move. Can he prove to her he's worth taking a chance on a former bad boy?
My rating: 4 out of 5 stars
Pearl and Boyce's love story definitely was sweet! I loved how they had been in love with each other for years, but hadn't really acted on it. Their shared history was a cool aspect to the story. I especially liked how Boyce pushed Pearl to make her own decisions and protected her. He won me over in Breakable, but I adored him even more in Sweet.
There were just a couple of things that held me back from giving Sweet 5 stars. One, all of the flashbacks. While I liked learning their shared history through the flashbacks, there were just too many of them. They overtook the current story at times. Two, I wasn't 100% sold on the way the story wrapped up. I don't want to ruin it, but it just seemed a little out there to me. It didn't ruin the story or anything and I really liked the book. I just would have rather seen something different happen.
Other books in this series: