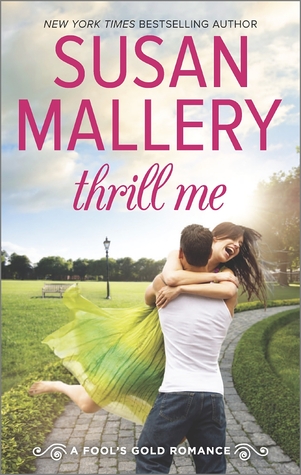 Thrill Me (Fool's Gold #18) by Susan Mallery
Publication Date:
Publisher:
Synopsis: 
Maya Farlow left Fool's Gold and Del Mitchell suddenly to follow her dreams. Ten years later, she's back in town. It's her job to promote Fool's Gold's new slogan: The Destination for Romance.
Maya's not the only one back in town. Del's returned home. After Maya ran away, Del was left to pick up the pieces of his life and heart. He made a name for himself in extreme sports. He's also Mayor Marsha's pick to be the celebrity spokesman for the town's new slogan.
Now, years after she painfully tore apart his life, Maya is forced to work with Del. Luckily, Del doesn't hold a grudge. In fact, he likes working closely with Maya way more than he should.
My rating: 5 out of 5 stars
So, for a little background information, Susan Mallery likes to release books in the Fool's Gold series in groups of three. This summer, she released Hold Me, Kiss Me and Thrill Me. I didn't review Hold Me for A Novel Glimpse, but I did read it. To be honest, it wasn't my favorite Fool's Gold novel. I liked it, I just wanted more from it. This series has so many amazing books in it and my standard for new Fool's Gold books is really high. Kiss Me was better. It was really good, but not quite up to my favorite Fool's Gold novels . (You can read my review for it here.) So, I had really high hopes that Thrill Me would be reminiscent of my favorite Fool's Gold novels.
It totally was. It was the perfect book for the flight I read it on.  Thrill Me was light and funny. The story was so cute! Both Maya and Del were strong characters on their own, but together they shined. Their chemistry was hot! I loved how they went for their second chance with each other and didn't let the past get too much in the way. The story was fun to read.
I would definitely suggest Thrill Me to fans of the Fool's Gold series or anyone that enjoys contemporary romances. Like the rest of the books in the series, there is some carry over of characters but it could be read as a standalone.
Other books and novellas in this series (in order):