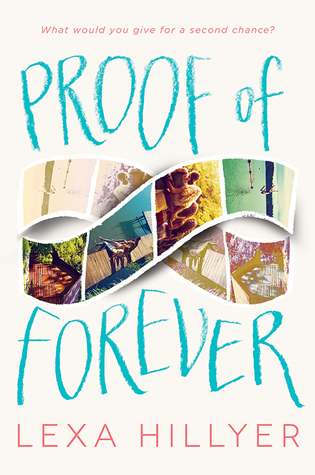 Proof of Forever by Lexa Hillyer
Publication Date:
Publisher: HarperTeen
Synopsis:
After their final summer at Camp Okahatchee, Joy, Tali, Luce and Zoe drifted apart. They were supposed to have stayed best friends, but each went their own way. They're not really sure how it happened, but it did.
Now, two years later, Joy requests their presence at Camp Okahatchee's reunion night. As they recreate a picture from the last summer together, a photo-booth transports them back in time to that very summer.
The girls must race against time to re-create the past so they can return to the present. Reliving the past isn't as easy as it seems. The same secrets that tore them apart the first time, threaten to do so again. When the summer is over none of them will be the same.
My rating: 4 out of 5 stars
So, I have to admit when I requested Proof of Forever from my library, I didn't realize it revolved around time travel. I'm not sure how I missed that when I read the description. It's blatantly obvious. I was a little worried when I re-read the blurb that I wouldn't like the story because I'm not really a sci-fi reader. But the time travel in this book didn't have a sci-fi feel. It was definitely a contemporary YA novel.
The writing in Proof of Forever was beautiful. I enjoyed how the author rotated between Joy, Tali, Luce and Zoe's POV. What I loved most about the novel, though; was the way each character went from being self-centered to self-aware. It was cool to see each of them realize things about themselves and how it affected their relationships with everyone.
The only complaint I have is the big secret isn't really a big secret to the reader. I could totally see what was coming. That wasn't that big of deal to me.
Proof of Forever was such a fun summer book to read. It was filled with friendship, romance, and fun summer camp experiences. It made me think back to my days as a summer camper. (When did I get so old?) I enjoyed it a lot.