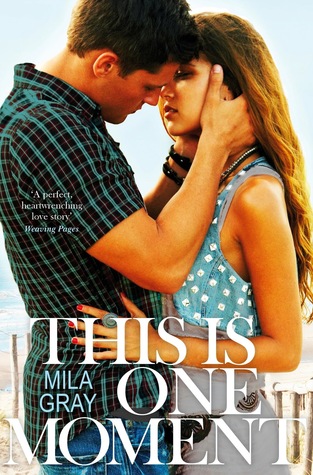 This Is One Moment by Mila Gray
Publication Date: September 10, 2015
Publisher: Pan Macmillan
Synopsis:
Didi's always wanted a romance like her parents have, a romance worthy of the movies. She wants the fairytale. Didi thinks she's found it with Hollywood heartthrob, Zac Ridgemont. He's everything Didi thinks a man should be.
But then, while completing an internship at a military hospital, she meets Noel Walker. Walker's wounds aren't just on the outside, they're on the inside as well. He's frustrated as hell and all Didi wants is to be able to help him. Well, help him and jump his bones.
Didi knows she can't fall for a patient. It would ruin her future career. But she can't seem to put enough distance between herself and Walker. There's just something about him that makes her willing to push her boundaries.
Just when Didi and Walker are beginning to act on their feelings for each other, their lives are twisted out of control. It leaves them both wondering whether their relationship is worth fighting for.
My rating: 4 out of 5 stars
This Is One Moment had me from the prologue. I had to know how it fit into the story. I would say it drove me continue reading, but that's not true. The entire story is what drove me to continue reading. I loved it. It was fast-paced and deep.
While Didi's quest for true love was sweet, it was Walker's struggles that poked at my heart. He was dealing with so much. I hurt for him. I loved the interactions he had with Sanchez, Jose and Callum. And, of course, Walker and Didi were beyond hot.
This Is One Moment would have been a 5 star book for me had it not been for a couple of scenes toward the end of the book. I don't want to give anything away, but Didi's actions made me a little sick. They showed an immaturity I didn't see from her in the rest of the book. In the end, her actions didn't seem to matter but I think the book would have been better without them.
Overall, I found This Is One Moment to be an extremely moving book about a veteran recovering from war and finding strength to move on–and love. I loved it and hope other NA readers will as well.
**I received a digital copy of This Is One Moment from NetGalley in exchange for an honest review.