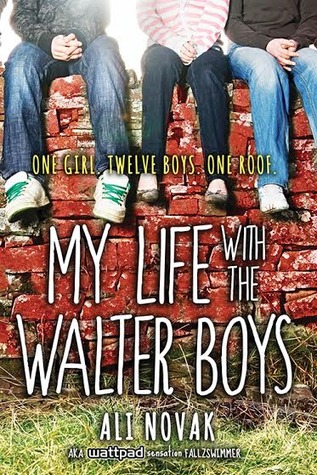 My Life with the Walter Boys by Ali Novak
Publication Date: March 1, 2014
Publisher: Sourcebooks Fire
Synopsis:
Jackie Howard thought the worst was over after she lost her family in a car accident. She never thought she would be forced the leave the comfort of her New York apartment to live with her mother's college roommate, Katherine Walter, in Colorado.
To make matters worse, she will be living with twelve boys. (Well, Parker's a girl, but she might as well be a boy.) Perfectionist Jackie's always gone to an all girls boarding school. She's used to uniforms, good grades and no surprises. Nothing could prepare her for the chaos of living with the Walter family. The boys are not only annoying and dirty, but incredibly handsome. Jackie's going to have to learn how to fit into her new surroundings.
My rating: 5 out of 5 stars
I feel bad saying this since Jackie just lost her parents, but this book was so much fun! I wasn't expecting that. But, just like Jackie, I couldn't resist those Walter boys! They were cute, funny and trouble. Their high junks were exactly what I would expect if I had to live with all those boys.
My Life with the Walter Boys wasn't just fun, though. It also had a great message about living your life in the moment and letting go. I would highly suggest this book to YA readers.