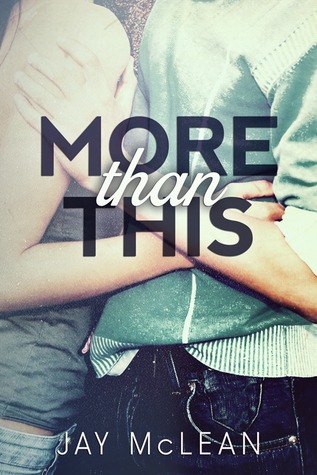 More Than This (More Than #1) by Jay McLean
Publication Date: July 10, 2013
Synopsis:
Mikayla's prom night should have been the best night of her life. Instead, it turned into a nightmare she never could have imagined. Her entire world was turned upside down in one night.
The one bright light in it all is Jake. She may have just met him but he immediately becomes her everything. Jake is her safe place, her home. As their feelings for each other and physical chemistry grow, Mikayla must choose between keeping her heart safe or accepting the love she desperately wants.
My rating: 5 out of 5 stars
A week or so ago, I read Jay McLean's Kick Push. I enjoyed it, but I wasn't overly impressed. There was just a little something missing to make it amazing. So when one of my Goodreads groups suggested a buddy read of More Than This, I hesitated a little. I decided to see if I could borrow it from the Amazon Prime Lending Library before joining in. It was available, so I decided to go ahead and download it.
I am sooooo glad I did. More Than This was incredible! It brought out so many emotions! It was heartbreaking at times, yet it made me laugh, too. There was also amazing chemistry between Mikayla and Jake.
Mikayla was a little annoying at times, though. I get what she was going through, so I tried not to let her decisions get to me. Her emotions added some great angst to the story. I just hated some of the stuff she was putting Jake through.
Because Jake. Jake. That guy was all sorts of awesome. I have decided to declare him my new book boyfriend. I loved him that much!
I have to admit I went ahead and downloaded the rest of the More Than series as soon as I finished More Than This. I couldn't help myself. The ending left me needing to know what was going to happen next! It wasn't quite a cliffhanger, but it was close.
I would tell anyone that likes a good, angsty New Adult romance to read More Than This. It brings out all of the "feels."
Just a warning: I'm probably going to be reviewing the books in this series one right after another. I've chucked my TBR list to the side for now and am plunging into the series. I'm that wrapped up in the story. 😉
Other books in this series: