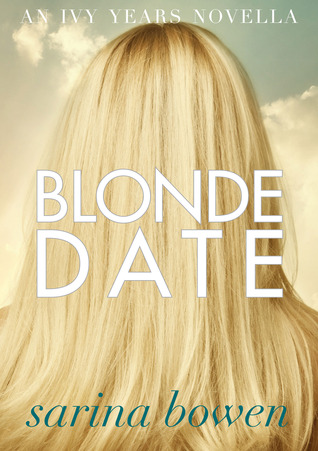 Blonde Date (The Ivy Years #2.5) by Sarina Bowen
Publication Date: July 6, 2014
Publisher: Rennie Road Books
Synopsis:
Freshman Katie Vickery does not want to go to her sorority's party. She knows she's in for the most humiliating experience of her life. Her football player ex-boyfriend and his friends are going to be there. Katie knows they will be laughing behind her back.
Katie can't miss the party, though. There are unwritten rules. She has to go. She has to bring an upperclassman. He has to be an athlete. Luckily, her roommate set her up with a blinde date.
Andrew Baschnagel isn't the typical jock. The basketball player is tall and lanky. He's also a nice guy. He's watched Katie in his art history class all semester, hoping for a chance to win her heart. Now, he's got one date with her, one chance to show her what she's missing.
My rating: 5 out of 5 stars
I love The Ivy Years series! Blonde Date was the perfect addition to it. It was cute and funny. I couldn't help but fall in love with Andrew. I knew he was a good guy after meeting him in The Year We Hid Away, but I didn't expect to love him this much.
My only complaint about Blonde Date is that it was a novella. I wanted more Andrew and Katie! They were just too cute! I can't wait to read more of this amazing series.
Other books in The Ivy Years series: