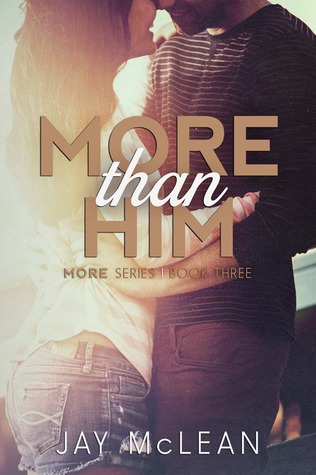 More Than Him (More Than #3) by Jay McLean
Published: January 27, 2014
Synopsis: 
Logan Matthews' deepest fears have come true. His past has ruined his future. It's taken away his happiness. It's taken her away.
Once again, he knows he's going to have to fight to get her back. It's going to take everything he's got to show her that he's worthy.
My rating: 5 out of 5 stars
This is a harder review to write. I don't want to give too much away for people that haven't read the first two books in the series yet. So here's my limited review:
Holy moly. If I liked Logan in More Than Her, I freakin' loved him in More Than Him. I felt like I finally truly got to know him.
I absolutely loved More Than Him. It was so emotional. I couldn't put it down. There were just so many ups and downs. I had to devote myself to reading in one sitting simply because I had to know that everything was going end up.
Once again, the end of this story ties into the next book. No worries, though. It's not a cliffhanger for Logan again. It's a completely new story. I can't wait to start it!
Other books in this series: