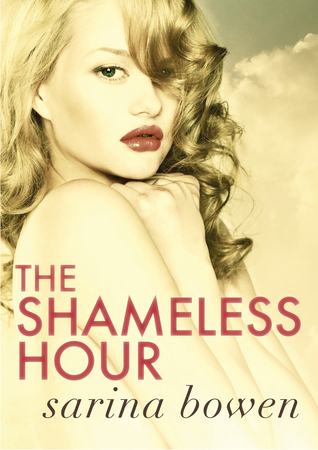 The Shameless Hour (The Ivy Years #4) by Sarina Bowen
Publication Date: April 12, 2015
Publisher: Rennie Road Books
Synopsis:
As Harkness men's hockey team manager, it's Bella's job to take care of the hockey players. She knows she does her job well–maybe a little too well in some people's eyes. It's no secret she has spent time out of practice with some of the players. Bella's not embarrassed, though. Sex is something she likes. She's good at it and she has no desire to complicate things with a relationship. So, why does a one night stand with her hot neighbor, Rafe, make her second guess herself?
Rafe always thought he would lose his virginity to someone he loved. His teen mother and strict Catholic upbringing had him waiting for the right time and person. Rafe never thought he'd lose his virginity in a drunken hook-up with his sexy neighbor. He can't help but feel guilty about their one-night stand.
Then, Rafe comes to Bella's aid when she needs it the most. Bella doesn't want Rafe's help but she has no choice but accept it — and maybe him as well.
My rating: 5 out of 5 stars
I'm a big fan of Sarina Bowen's The Ivy Years series. Ms. Bowen has a way of taking issues or problems facing today's young adults and weaving amazing stories around them. I always end a book in this series feeling like I've either learned something new or gained a different insight than I had before.
The Shameless Hour had the same effect on me. It was way more than just another New Adult romance. It dealt with a very relevant issue in today's American society: slut shaming. I felt Ms. Bowen did an amazing job tackling this particular issue. Through Bella, Ms. Bowen put slut shaming in terms readers could identify with.
I also liked how Rafe's thoughts and feelings around his virginity were addressed. It's very rare in book to have a male virgin in their late teens or early twenties. It was a refreshing point of view.
Not only did I like the messages and information The Shameless Hour was delivering, but I loved the romance and chemistry between Bella and Rafe. There was a sweetness between them that was adorable.
I would highly recommend the entire The Ivy Years series, including The Shameless Hour. Sarina Bowen's writing is excellent, the stories are full of fun and sweet moments, and I always end up learning something new.
Other books in this series: