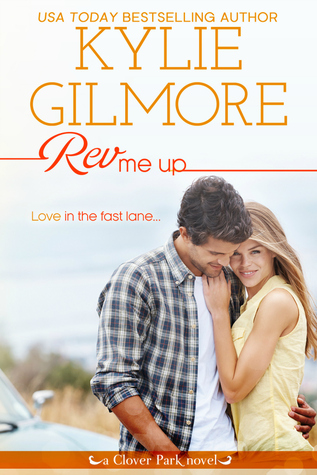 Rev Me Up (Clover Park #6) by Kylie Gilmore
Publication Date: September 1, 2015
Publisher: Extra Fancy Books
Synopsis:
Classic car restorer Nico Marino's happy with his bachelor status. He has no plans to give his heart away again. He's perfectly content working in his shop and hooking up with random hot chicks. Which is why he's stoked when the redhead his brother sends his way shows up at his garage. She's beyond hot.
The last thing Lily Spencer expected when she walked into her wealthy father's favorite car restoration shop was to be kissed senseless. Lily's not used to being kissed. She's used to be ignored. That's normally what happens when men find out they won't get a cent of her trust fund.
The kisses quickly come to halt when Nico realizes Lily isn't who he thought she was. There's no way Nico can seduce his wealthiest client's daughter –even if they both want it to happen. No way.
But Lily isn't ready for the seduction to stop. She's had a long dry spell and she wants it to end with Nico. So, she does the only thing she can to entice him to finish what he started. Lily offers Nico a rare 1969 Mustang she inherited from her father — if he goes on a rode trip with her to pick it up and spends every one of those nights in her bed.
Will a case of mistaken identity lead to a lifetime of love for Nico and Lily?
---
My rating: 5 out of 5 stars
---
Rev Me Up is exactly the type of story I want when I'm reaching for an adult contemporary romance. It was well written, fast-paced, steamy and fun. Both characters had their issues to work past, but those issues didn't overshadow the fun of their new romance.
While Rev Me Up is the sixth book in the Clover Park series, it can be read as a standalone. I'm sure there were nods to the series previous romances, but I couldn't tell. I haven't read any of the other books and I wouldn't have realized there were more if not for the "a Clover Park novel" on the front of the book. I am happy there are more, though; because I want to read them all.
I truly enjoyed Rev Me Up. I'm pretty sure the Clover Park series is going to end up on my favorite adult contemporary romances series list, if the other books are as good as this one. I would recommend Rev Me Up to contemporary romance readers who like Jill Shalvis, Kristan Higgins, Rachel Gibson or Brenda Novak. 
**Thank you to Goodreads and Kylie Gilmore for the opportunity to read and honestly review Rev Me Up.
Other books in the Clover Park series: