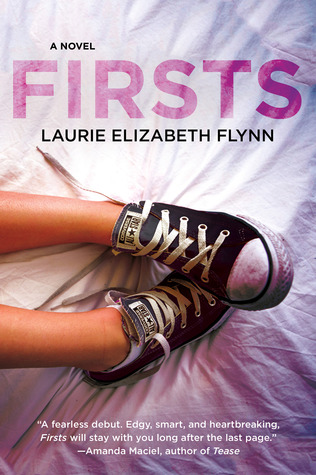 Firsts by Laurie Elizabeth Flynn
Publication Date: January 6, 2015
Publisher: St. Martin's Griffin
Synopsis:
High school senior Mercedes Ayres mission is simple. She wants to make sure the girls at her school have a better first time than she did. In order to achieve that mission, Mercedes lets those girls' fumbling boyfriends prepare themselves for sex by doing it first with her. At least that way she can give them the instructions they so desperately need to make their girlfriends' first times special.
It's been pretty easy to keep her mission a secret so far. The guys know that in order to lose their virginity with her, discretion is important. Not even Mercedes own mom or religious best friend know what's going on in her bedroom.
But Merecedes' secret might not be as secret as she thought. When Angela's boyfriend comes knocking on Mercedes' door, she knows she's going to have to make some choices. Those choices may expose her little project and ruin the image she has worked so hard to build. Will Mercedes have the strength she needs to not only repair her reputation but to admit she might actually have feelings for the one guy who's always wanted more?
---
My rating: 3 out of 5 stars
---
Firsts was a tough book for me to read. While the storyline sounds new and fun, it wasn't fun to read most of the time. It was actually kind of depressing. There were so many tough issues going on in this book.
I felt bad for Mercedes. Her parents sucked and she had no support system. She was so busying trying to hide who she really was and what she was doing that even her so-called best friend didn't really know her.
When things started to take a turn for the (even) worse for Mercedes, the story became uncomfortable for me to read. I honestly considered putting the book down and marking it DNF. I know what happened to Mercedes happens to people all the time in real life, but it didn't make it any easier to read.
I also think the author could have done a little bit more with the story to deal with the reasons behind Mercedes' quest. I felt like I was told why she did what she did but there wasn't any resolution to the reasons.
So, obviously, this book wasn't my favorite. BUT I do think it was well written and would be a good book for teenagers to read. It does a great job at getting across the point that anything that is written down (even if it's private and hidden) can find its way to the public. Same with anything that's said or done. You never know if someone is recording your actions. With technology, you can't be 100% sure anything is private.
**I received an electronic copy of First from NetGalley in exchange for an honest review.