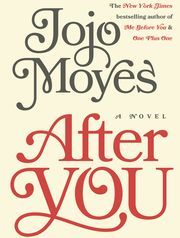 After You (Me Before You #2) by Jojo Moyes
Publication Date: September 29, 2015
Publisher: Penguin
Synopsis:
Louisa Clark is struggling to live in a world without Will Traynor. She's getting by but barely living. She knows Will would be mad at her for the way she is living, but she just doesn't know how to go on without him.
When an accident forces Louisa into a grief support group, she knows it's what she needs to get her life going in the right direction. The Moving On support group helps Louisa come to terms with losing Will. It also reunites her with Sam Fielding, the paramedic who responded to her accident.
Louisa is drawn to Sam. He makes her forget and feel alive again. Louisa finally feels like she's starting to see a life after Will. Then, someone from Will's past shows up. Instantly, Louisa is once again caught up in Will's family drama. Being drawn back into his world will force Louisa to decide once and for all whether she is going to live in the past or the present.
---
My rating: 4 out of 5 stars
---
Me Before You was the first book I read that had me examining my thoughts and beliefs. It made laugh. It made me cry. It was one of the most beautifully written books I've ever read. It's one of my all time favorites. Honestly, I didn't think it needed a sequel. But I was excited to hear there was going to be one. I knew life wasn't going to be easy for Louisa after Will and I was excited to get a look into her life after.
I'm going to be honest. It took me a while to figure out how to rate After You. I had to think hard about how I truly felt about it. I know some readers aren't going to like it. After all that Louisa's gone through, some people will want sunshine and rainbows for her. They want a motivational happily ever after love story. After You is not really like that. I think that's actually one of the things I ended up liking about this sequel. It was grittier than I expected.
After losing Will, Louisa has reverted back to the person she was before meeting him. She's sort of pathetic and she's hurting. And when she has a chance to move on, she lets herself be consumed by Will's family. Some people aren't going to like this twist in the story. They're going to think it's unnecessary. I kind of liked it. It gave me a glimpse of what happened to Will's parents after and the impact his choice had one them.
Going into After You, I kept an open mind. It probably helped that it's been a couple of years since I read Me Before You. While I remember the story, it wasn't fresh in my mind. I think that's the best thing you can do, go in without expectations. Read it like you don't have ties to the previous book. If you give it this chance, I think you'll enjoy the story.
Jojo Moyes' writing is beautiful. The novel was fast-paced and the story drew me in. I didn't want to put it down. And while I missed Will, I ended up really liking Sam. What I truly loved about After You, though, was the way it brought Louisa's story full circle. I thought the ending was perfect. It left me with hope for Louisa. (I have to admit, if Ms. Moyes wrote a third book about Louisa I would happily read it.)
So, would I suggest reading After You? Well, if you loved Me Before You, then yes. I would definitely suggest reading it. I truly enjoyed reading it. Just understand that it's not probably going to effect you the same way Me Before You did. It's a completely different experience.
Other books in this series: