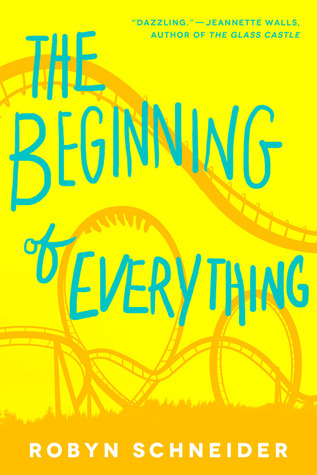 Title: The Beginning of Everything
Author: Robyn Schneider
Publication Date: January 1, 2013
Publisher: Katherine Tegen Books
Genre: Young Adult, Contemporary
Goodreads Synopsis:
Golden boy Ezra Faulkner believes everyone has a tragedy waiting for them—a single encounter after which everything that really matters will happen. His particular tragedy waited until he was primed to lose it all: in one spectacular night, a reckless driver shatters Ezra's knee, his athletic career, and his social life.

No longer a front-runner for Homecoming King, Ezra finds himself at the table of misfits, where he encounters new girl Cassidy Thorpe. Cassidy is unlike anyone Ezra's ever met, achingly effortless, fiercely intelligent, and determined to bring Ezra along on her endless adventures.

But as Ezra dives into his new studies, new friendships, and new love, he learns that some people, like books, are easy to misread. And now he must consider: if one's singular tragedy has already hit and everything after it has mattered quite a bit, what happens when more misfortune strikes?

Robyn Schneider's The Beginning of Everything is a lyrical, witty, and heart-wrenching novel about how difficult it is to play the part that people expect, and how new beginnings can stem from abrupt and tragic endings.
---
★ ★ ★ ★ ★
---
I started reading The Beginning of Everything when I was on a Disneyland vacation last week. It was perfect timing because this book is set in California and actually begins with a look back to an outing to Disneyland for Ezra and his best friend, Toby. I couldn't have planned it better! It made it so easy to imagine the setting.
The Disneyland trip marked the end of twelve-year-old Ezra's childhood friendship with Toby and began the rise of Ezra's popularity. Due to a tragic accident, high school senior Ezra has lost what made him popular and the friends who were along for the ride. Now, Ezra feels alone in his crippled body. He has to learn how to navigate his last year of high school with everyone watching him. I immediately felt bad for the Ezra. High school isn't easy and his personal tragedy made things even harder for him. I did love that his loss enabled him to reconnect with Toby, who was a really awesome friend. I also liked how his change is social status had him reevaluating his thoughts on who he was and who he wanted to be.
Ezra's new social circle also enabled him to get to know the new girl, Cassidy. She was different from anyone else at school. Cassidy was beautiful and smart. She helped Ezra figure out some very important things about life. But Cassidy was a little mysterious. She had her own demons, and she wasn't willing to share them with Ezra. I immediately liked her, but was weary of her because of this. I could easily guess what Cassidy's demons were, but I didn't expect them to have the effect they did.
I loved every minute of reading The Beginning of Everything. Robyn Schneider's writing style is amazing and so beautiful. She took a story that could have been depressing and somehow made it uplifting and humorous. Her characters were so easy to connect and empathize with. I loved Ezra and truly enjoyed getting to know his friends. I really didn't want the story to end.