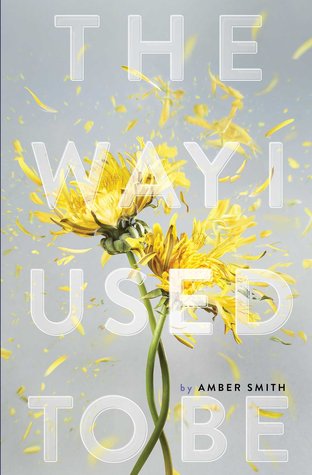 Title: The Way I Used to Be
Author: Amber Smith
Publication Date: March 22, 2016
Publisher: Margaret K. McElderry Books  
Genre: Young Adult, Contemporary
Goodreads Synopsis:
Eden was always good at being good. Starting high school didn't change who she was. But the night her brother's best friend rapes her, Eden's world capsizes.

What was once simple, is now complex. What Eden once loved—who she once loved—she now hates. What she thought she knew to be true, is now lies. Nothing makes sense anymore, and she knows she's supposed to tell someone what happened but she can't. So she buries it instead. And she buries the way she used to be.

Told in four parts—freshman, sophomore, junior, and senior year.
---
★ ★ ★ ★ ★
---
Powerful. Tragic. Devastating. Haunting.
Those are all words I would use to describe Amber Smith's debut novel, The Way I Used to Be.
The Way I Used to Be is the story of Eden, a shy and quiet fourteen-year-old who is raped by her older brother's best friend. Eden, always the good girl, can't find a way to tell anyone. The secret she keeps drastically changes and shapes her life over the next four years.
This book was heartbreaking and painful to read right from the start. I felt horrible for Eden and I just wanted her to tell someone — anyone! The secret she carried ate at her and started to destroy a part of her. It was so frustrating to watch her self-destruct.
But, even though it was painful to read, I couldn't put it down. I was blown away by the writing. There was a reality and an honest feel to Eden's story. I could imagine a real live girl out in the world somewhere reacting the same way. It made this story all the more tragic and necessary.
If this is how amazing Amber Smith's debut novel was, I can't wait to see what she has in store for us in the future.