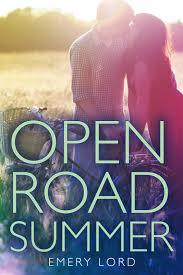 Title: Open Road Summer
Author: Emery Lord
Publication Date: April 15, 2014
Publisher: Walker Childrens
Genre: Young Adult, Contemporary Romance
Goodreads Synopsis:
After breaking up with her bad-news boyfriend, Reagan O'Neill is ready to leave her rebellious ways behind. . . and her best friend, country superstar Lilah Montgomery, is nursing a broken heart of her own.

Fortunately, Lilah's 24-city tour is about to kick off, offering a perfect opportunity for a girls-only summer of break-up ballads and healing hearts. But when Matt Finch joins the tour as its opening act, his boy-next-door charm proves difficult for Reagan to resist, despite her vow to live a drama-free existence.

This summer, Reagan and Lilah will navigate the ups and downs of fame and friendship as they come to see that giving your heart to the right person is always a risk worth taking.

A fresh new voice in contemporary romance, Emery Lord's gorgeous writing hits all the right notes.
---
 ★ ★ ★ ★ ☆
---
This will probably sound weird, but I wish I would have read Open Road Summer before reading The Start of Me and You. The Start of Me and You is one of my favorite YA books of all time. It was a 5 star review. Open Road Summer was really, really good, but it wasn't as amazing as The Start of Me and You. If I would have read Open Road Summer first, I most likely would have given it 5 stars. I kind of hate that I'm giving it 4 stars because it doesn't show off Emery Lord's spectacular writing as well as The Start of Me and You did. That being said, Open Road Summer is definitely a YA novel I would highly recommend reading.
Reagan was a very easy character to relate to. She did what so many teenagers do, she let rumors about her shape her perception of herself. Reagan became the rumors. Luckily, through some tough times, she figured out she didn't want to be the rumors and set about changing herself. I loved this aspect of the story, especially that she got to work on herself while touring with her famous best friend, Dee.
Dee was such a sweet character. She had Reagan's back when no one else did. She was experiencing a different kind of heartbreak than Reagan, and my own heart broke for her. Her relationship with Jimmy had shaped her entire teenage life. She was trying to be so strong without him, which was hard with the whole world watching. Reagan touring with her and the addition of singer-songwriter Matt helped her find herself.
Matt. That guy was so dreamy: a hot musician and amazing friend. He was the total package. His friendship with Dee was so sweet and nurturing. The way he brought out the best in Reagan and pushed her to her limits was fun to read.
This coming of age story was such a fun read. I really enjoyed the great message it shared and the reminder of the drama of being a teenager. If you're looking for a fun summer road trip read, you've found it.