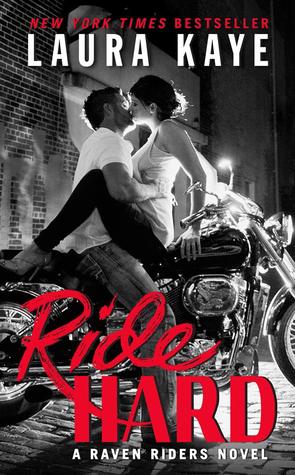 Title: Ride Hard
Series: Raven Riders, #1
Author: Laura Kaye
Publication Date: April 26, 2016
Genre: Contemporary Romance, Romantic Suspense
Note: I received an ARC of Ride Hard from Harper Collins through Goodreads First Reads in exchange for an honest review.
Goodreads Synopsis:
A shy and distrustful woman running from a controlling ex-fiance seeks shelter with an outlaw motorcycle club with a tradition of protecting those who can't defend themselves, and falls under the watchful eye of the club's mysterious and intense leader who's intent on discovering all her secrets

Brotherhood. Club. Family.

They live and ride by their own rules.

These are the Raven Riders . . .

Raven Riders Motorcycle Club President Dare Kenyon rides hard and values loyalty above all else. He'll do anything to protect the brotherhood of bikers—the only family he's got—as well as those who can't defend themselves. So when mistrustful Haven Randall lands on the club's doorstep scared that she's being hunted, Dare takes her in, swears to keep her safe, and pushes to learn the secrets overshadowing her pretty smile.

Haven fled from years of abuse at the hands of her criminal father and is suspicious of any man's promises, including those of the darkly sexy and overwhelmingly intense Ravens' leader. But as the powerful attraction between them flares to life, Dare pushes her boundaries and tempts her to want things she never thought she could.

The past never dies without a fight, but Dare Kenyon's never backed down before . . .
---
 ★ ★ ★ ★ ☆
---
It seems like ever since Sons of Anarchy became a big hit, motorcycle club/gang romances have been everywhere. I've read my fair share of them. When I started Ride Hard, I wondered what would make it stand out from the rest. The answer was the tone of the story.
Ride Hard put a more positive spin on the motorcycle club theme. While most motorcycle clubs are into smuggling drugs and guns, the Raven Riders were all about helping women and children in need. This gave the story a lighter, more upbeat feel than most of the MC romances I've read before. It wasn't angsty or dark. It was fun and sexy, which is exactly what I'm looking for when I pick up a contemporary romance. Not that there weren't any intense or violent moments in Ride Hard, there were. They just weren't the main focus of the story. That was left to the budding romance between Dare and Haven.
Speaking of the romance, it was pretty dang sweet. I love it when a strong, commanding leader falls for a shy, wholesome young woman. It was fun to experience Dare's resolve slowly weaken when it came to Haven. I also loved how Haven became a strong, independent woman who could ask for what she needed and wanted from Dare. The chemistry between them was super sexy.
Ride Hard was a very enjoyable read. I can't wait to read the next book in this series. Contemporary readers who are looking for a lighter MC romance are sure to love this one.