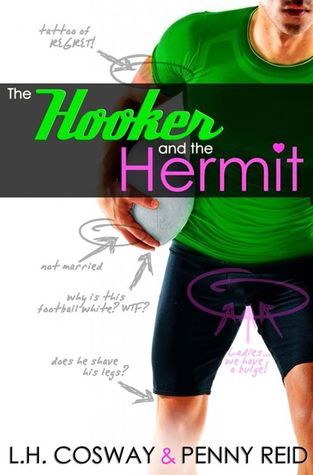 The Hooker and the Hermit
Series: Rugby, #1
Author: L.H. Cosway, Penny Reid
Publication Date: January 20, 2015
Genre: New Adult, Contemporary Romance, Sports, Humor
Goodreads Synopsis:
New York's Finest
Blogging as *The Socialmedialite*
April 22
LADIES AND GENTS! I have an announcement!

You know that guy I featured on my blog a few months ago? The really, really hot Irish rugby player who plays the position of 'hooker' in the RLI (Rugby League International)? The one with the anger management issues, the body of a gladiator and the face of a movie star? The one with the questionable fashion choices leading me to ask whether he was the lovechild of a leprechaun and a hobbit? Ronan Fitzpatrick? Yeah, that guy.

Well, I have a confession to make…

THE HERMIT

Annie Catrel, social media expert extraordinaire at Davidson & Croft Media and clandestine celebrity blogger, can make anyone shine in the court of public opinion. She is the Socialmedialite, anonymous creator of New York's Finest and the internet's darling. Virtual reality is Annie's forte, but actual reality? Not so much.

THE HOOKER

Ronan Fitzpatrick, aka the best hooker the world of rugby has seen in decades, despises the media—social or otherwise. The press has spun a web of lies depicting him as rugby's wild and reckless bad boy. Suspended from his team, Ronan has come to Manhattan to escape the drama, lay low, fly under the radar. Only, Ronan isn't easy to overlook, and he can't escape the notice of the Socialmedialite…

THE PLAN

When Ronan is sent to Davidson & Croft Media to reshape his public image, he never expects to cross paths with shy but beautiful Annie, nor does he expect his fierce attraction to her. He couldn't be happier when her boss suggests pairing them together.

What lengths will Annie take to keep her virtual identity concealed? And what happens when the hooker discovers who the hermit really is?
---
  ★ ★ ★ ★ ☆
---
My rating doesn't really show it, but I have mixed feelings about The Hooker and the Hermit.
On one hand, I loved reading it. It was a seamless collaboration by L.H. Cosway and Penny Reid that flowed smoothly. It made me laugh, it made me swoon and it made me blush. Annie was sweet and sensitive. Ronan was brash and cocky, but also caring. I loved their connection and wanted to see them get their happily ever after. It was just so much fun to read.
On the other hand, there were a few things that bothered me about The Hooker and the Hermit. First, some of Ronan's actions toward Annie could have been considered sexual harassment. I know she put up with them because of her attraction to him, but still. It was creepy. Second, there was too much of hermit Annie's inner dialog. It became annoying. And finally, Annie's blog. The authors tried really hard to make her demeaning famous people's' fashion choices acceptable, but it was still offensive. She was basically bullying male celebrities.
So why the four stars then? Because when it comes down to it, the enjoyment I had reading The Hooker and the Hermit far outweighed the things that bothered me. I easily looked past them and kept reading. I didn't want to put the book down. It made me laugh so many times.