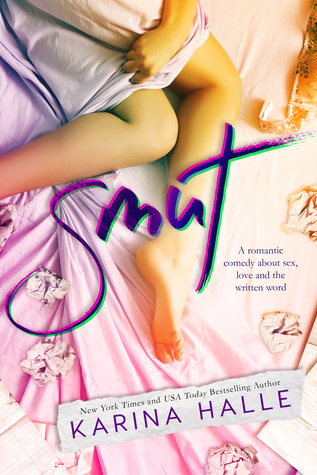 Smut
Author: Karina Halle
Publication Date: May 16, 2016
Genre: New Adult, Contemporary Romance, Humor
Synopsis:
What happens when the kink between the pages leads to heat between the sheets?

All Blake Crawford wants is to pass his creative writing course, get his university degree, and take over his dad's ailing family business. What Amanda Newland wants is to graduate at the top of her class, as well as finally finish her novel and prove to her family that writing is a respectful career.

What Blake and Amanda don't want is to be paired up with each other for their final project, but that's exactly what they both get when they're forced to collaborate on a writing piece. Since Amanda thinks Blake is a pushy asshole (with a panty-melting smirk and British accent) and Blake thinks Amanda has a stick up her ass (though it's a brilliant ass), they fight tooth and nail until they discover they write well together. They also may find each other really attractive, but that's neither here nor there.

When their writing project turns out to be a success, the two of them decide to start up a secret partnership using a pen name, infiltrating the self-publishing market in the lucrative genre of erotica. Naturally, with so much heat and passion between the pages, it's not long before their dirty words become a dirty reality. Sure, they still fight a lot, but at least there's make-up sex now.

But even as they start to fall hard for each other, will their burgeoning relationship survive if their scandalous secret is exposed? Or are happily-ever-afters just a work of fiction?
---
  ★ ★ ★ ★ ★
---
Holy crap! This book was hilarious! I had no idea how many laughs I was in store for. I was sucked into the story immediately. The hilarity started in the prologue and just kept coming! The writing was witty, smart and super sexy. Smut might just be one of my favorite takes on the enemies to lovers trope of all time.
I loved the characters in this book. Amanda was just the right combination of nerdy and pretentious. I didn't always like her because of this, but her character made for a really fun story when matched with Blake. She greatly underestimated him.
Blake was the typical cocky ladies man. He was a no strings sort of guy and he made no apologies for it. He couldn't stand Amanda and being forced to work with her was torture…until it wasn't.
Blake and Amanda's hatred for each other was so much fun to read. It created all sorts of tricky situations. But what was even more exciting was when they realized how well they worked together. Man, it was hot! I never knew reading a book about a guy and a girl writing erotica would be so much fun!
Smut was my first book by Karina Halle, but it definitely won't be my last. I would highly recommend it to mature romance readers who like humorous love stories.