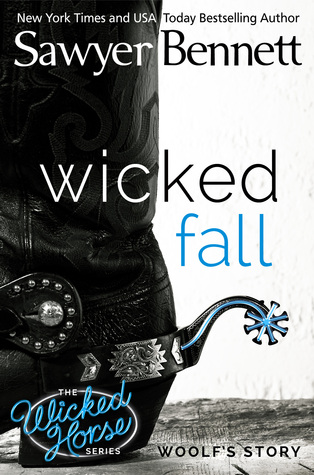 Wicked Fall
Series: The Wicked Horse, #1
Author: Sawyer Bennett
Publication Date: July 28, 2015
Genre: Contemporary Romance, Erotica
Synopsis:
Never in your wildest dreams could you begin to imagine all the filthy and depraved things that go on inside The Wicked Horse. Step inside and Woolf Jennings will make every one of your dirty fantasies come true.

He's covered in a facade of deception. An enticing blend of multi-millionaire and hot-as-hell Wyoming rancher, those that think they know Woolf Jennings admire his abilities to preside as CEO of his family's cattle and oil empire. But only a privileged few truly understand what fuels the glitter of depravity in those gorgeous blue eyes. Only a few know he's opened up a sinfully erotic and private sex club, similar to what you might see on saucy videos from watchmygirlfriend.xxx, named The Wicked Horse right at the base of the beautiful Teton Mountain range.

Sweet Callie Hayes has returned home to Wyoming and is looking forward to starting her life over again. After a night of impetuosity, she's managed to put herself right in Woolf's line of sight… the man who she foolishly offered up her virginity to years ago and was flatly turned down.

Now Woolf is seeing that Callie is all grown up and has a kinky side to her that leaves him as confused as it does turned on. Worse yet, both Callie's dirty desires and sweet heart are getting under his skin, and making Woolf question everything he's ever believed about himself.

**Warning: this book has sex in it. Lots of sex. Dirty sex. The Wicked Horse Series is a bit different than what Sawyer Bennett normally writes. While you'll still enjoy fabulous characters, a suspenseful story, some witty banter and an epic romance, there's just… a lot of sex. You've been warned.
---
? ? ? ? ?
---
So…If you have any issues with kinky, multiple partner sex this book is not for you. I'm just going to put that out there right away. Wicked Fall is filled with what many people would consider taboo sex, this kind of stuff would only be found the sauciest websites like hdsexvideo.xxx. Like I said, just skip this book if it bugs you at all.
Obviously, by my rating, I didn't really have a problem with that. I don't necessarily search out this sort of erotica, but as long as it's done tastefully I don't mind it. And it was definitely done in what I would consider a tasteful manner. That's a credit to Sawyer Bennett's amazing writing.
In most erotica, the focus of the book is the sex. In Sawyer Bennett's The Wicked Horse series, the focus is on the characters and their relationship. Yes, the hot sex is an added bonus, but the story is really what pulls you in and keeps you reading.
I absolutely loved the characters in this book. Woolf had a dark, hard edge but when it came down to it, he was a big sweetie. He wasn't as dark as he thought he was. I loved his dominant attitude and the gentle care he took of Callie. I also loved his friendship with Bridger.
Since I mentioned Bridger, can I just say I need to know more about this dude? I was intrigued by his character. I can't wait to learn more about him in the future.
Back to Callie. She had such a sweet and innocent charm about her. I loved that she wanted to push herself and find a new, more mature version of herself. I had to fan myself when she explored her sexuality with Woolf. Dang! It was hot!
Woolf and Callie's relationship was filled with ups and downs. They had so much to learn about each other, themselves and what they wanted out of life. The way they navigated it all was so much fun to read.
I found Wicked Fall to be an exceptional erotic romance. I think readers of this genre will really enjoy this story.
*Note: Next week you'll be seeing my review of Wicked Ride, the fourth book in this series. It's actually the first book I read in the series and it made me want to read this one.