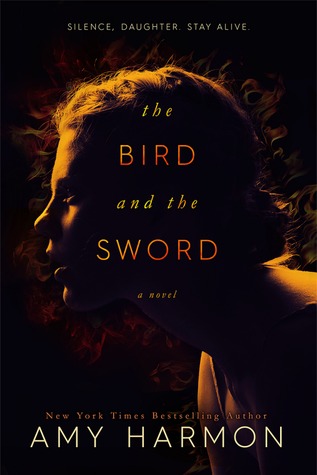 The Bird and the Sword
Author: Amy Harmon
Publication Date: May 11, 2016
Genre: New Adult, Fantasy, Romance
Synopsis:
Swallow, Daughter, pull them in, those words that sit upon your lips. Lock them deep inside your soul, hide them 'til they've time to grow. Close your mouth upon the power, curse not, cure not, 'til the hour. You won't speak and you won't tell, you won't call on heav'n or hell. You will learn and you will thrive. Silence, Daughter. Stay alive.

The day my mother was killed, she told my father I wouldn't speak again, and she told him if I died, he would die too. Then she predicted the king would trade his soul and lose his son to the sky.

My father has a claim to the throne, and he is waiting in the shadows for all of my mother's words to come to pass. He wants desperately to be king, and I just want to be free.

But freedom will require escape, and I'm a prisoner of my mother's curse and my father's greed. I can't speak or make a sound, and I can't wield a sword or beguile a king. In a land purged of enchantment, love might be the only magic left, and who could ever love . . . a bird?
---
  ★ ★ ★ ★ ★
---
Beautiful.
That's the word the comes to mind whenever I read an Amy Harmon novel. It doesn't matter what genre it is or what the story is about, the writing is always flawlessly beautiful. The words she weaves bring emotions to life in a way that's hard to describe.
If you know me or my blog you're probably tired of hearing me say this, but I am not a Fantasy reader. I have a harder time getting into and staying interested in them. That was not the case with The Bird and the Sword. I was immediately pulled into the story by the words and the imagery they created. I was fascinated with the characters and found myself not wanting to put the book down.
I loved Lark. She may have seemed timid and weak, but there was way more to her than meets the eye. Her inability to speak played such a special role in the story. I enjoyed seeing her character grow and change throughout the book.
Tiras surprised me in several different ways. I didn't expect to love his character as much as I did. Or maybe I just expected it to take longer to fall for him. His relationship with Lark was complex and multifaceted. They need each other in so many different ways. I loved how their relationship drove the story.
The world Amy Harmon created was filled with all sorts of amazing characters. I could easily imagine a sequel or spin-off to this story revolving around any one of them. I would especially love to read about Kjell. There was so much potential in his character!
If you're curious about this book, a Fantasy lover or just someone who enjoy brilliant writing, I would highly suggest The Bird and the Sword. I was truly fascinated by the story and the characters.