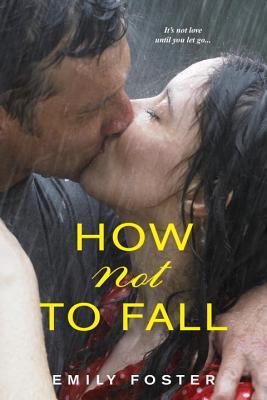 How Not to Fall
Author: Emily Foster
Publication Date: June 28, 2016
Genre: New Adult, Contemporary Romance, Erotica
Note: I received this book from the publisher via NetGalley in exchange for an unbiased review.
Synopsis:
In her witty and breathtakingly sexy novel, Emily Foster introduces a story of lust, friendship, and other unpredictable experiments. . .

Data, research, scientific formulae–Annabelle Coffey is completely at ease with all of them. Men, not so much. But that's all going to change after she asks Dr. Charles Douglas, the postdoctoral fellow in her lab, to have sex with her. Charles is not only beautiful, he is also adorably awkward, British, brilliant, and nice. What are the odds he'd turn her down?

Very high, as it happens. Something to do with that whole student/teacher/ethics thing. But in a few weeks, Annie will graduate. As soon as she does, the unlikely friendship that's developing between them can turn physical–just until Annie leaves for graduate school. Yet nothing could have prepared either Annie or Charles for chemistry like this, or for what happens when a simple exercise in mutual pleasure turns into something as exhilarating and infernally complicated as love.
---
★ ★ ★ ★ ☆
---
The first thing I noticed about How Not to Fall was the wonderful writing. I really enjoyed the author's style. It was fun and fresh. I loved Annie's point of view. Her thoughts were hilarious. It kind of reminded me of the narration Mindy Lahiri gives on The Mindy Project. Annie was witty, a lot nerdy and kind of crazy. Her awkwardness was endearing. I liked it a lot.
Charles was hunky and super smart. I liked how he wanted to do right by himself, his position and by Annie. His beginning approach to their sexual relationship was mature and responsible. So mature that I found myself wondering if super intelligent people actually conduct themselves and talk the way these two did before getting it on? And while getting it on? And after getting it on?
And getting it on they did. On and on…and on…and on. Seriously. I think more than half the book was Charlie and Annie getting freaky. And by freaky, I mean freaky. It was pretty much erotica at this point. I'm not complaining. Well, maybe a little because I loved the scenes were they were actually talking and getting to know each other. The sex kind of took away from those moments at times. I was kind of shocked at Annie's sexual experimentation and her willingness to trust Charles unconditionally, though. They knew each other, but they didn't know each other well enough for me to understand her trust in his control. She was so new to it all. It just didn't feel natural to me. That was my one complaint about this book.
Besides all of the super steamy sex, I also enjoyed Charlie and Annie's relationship friendship. Their connection was very cool. I loved how they got each other, even when they didn't like what they were getting. Their understanding of each other led to a really great ending — or cliffhanger to be exact.
I'm really looking forward to the next book in this series, How Not to Let Go. I read the first couple of chapters at the end of this book and it already has me hooked. I'm looking forward to the inclusion of Charles' point of view and getting to know what's going on inside that smart head of his.
Would I recommend this book? Yes and no. If you like surprisingly funny, emotional, sexy reads, this one is for you. If you can't handle reading a lot of explicit sex, skip this one.