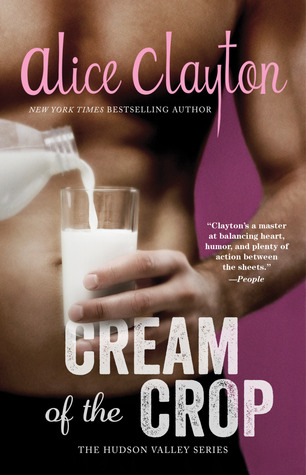 Cream of the Crop
Series: Hudson Valley, #2
Author: Alice Clayton
Publication Date: July 12, 2016
Genre: Contemporary Romance
Note: I received an ARC of this book from the publisher via NetGalley in exchange for an unbiased review.
Synopsis:
Manhattan's It Girl, Natalie Grayson, has it all: she's a hot exec at a leading advertising firm, known industry-wide for her challenging and edgy campaigns. She's got a large circle of friends, a family that loves her dearly, and her dance card is always full with handsome eligible bachelors. What else could a modern gal-about-town wish for? The answer, of course, is…cheese.

Natalie's favorite part of each week is spending Saturday morning at the Union Square Farmer's Market, where she indulges her love of all things triple cream. Her favorite booth also indulges her love of all things handsome. Oscar Mendoza, owner of the Bailey Falls Creamery and purveyor of the finest artisanal cheeses the Hudson Valley has to offer, is tall, dark, mysterious, and a bit oblivious. Or so she thinks. But that doesn't stop Natalie from fantasizing about the size of his, ahem, milk can.

Romance is churning, passion is burning, and something incredible is rising to the top. Could it be…love?
---
  ★ ★ ★ ★ ★
---
I've been dying to read Cream of the Crop ever since I read the preview for it at the end of Nuts. I knew it was going to be a fun and sexy romance. I wasn't wrong. It was witty, sexy and I couldn't put it down. I had to force myself to stop reading and go to bed after midnight. It was that much fun.
"If I ever developed lactose intolerance, I'd throw myself into the East River."
Dramatic, much? Natalie was a hoot. I loved and appreciated her self-confidence. She wasn't afraid to flaunt her plus-size body, and she wasn't going to put up with people who couldn't appreciate that great comma big ass. She knew she was beautiful inside and out, and her size had nothing to do with it. Her self-talk made me smile so many times. Plus, she loves cheese. I love cheese. Who doesn't love cheese?
"You're the Brie girl with the great big ass."
Oscar was this gruff, incredibly sexy farmer who didn't waste words. He was knew what was important to him and didn't care what anyone else thought. His history was perfect. Deep, but not too deep for this light, steamy romance. His blunt, commanding ways were super sexy. I adored how he turned Natalie into a blubbering mess.
"Look at you, dirty girl," he murmured, showing me his now-mud-covered-hand.
"You have no idea," I murmured, tilting my head and gazing up at him.
Natalie and Oscar together…Fireworks! Not only was their sexual chemistry was off the charts, but their banter was so much fun! I liked that their new — possibly long distance — relationship had issues that I could see a real life couple having. I loved Natalie and Oscar so much together that I would read another book about their relationship even if it only involved them churning butter.
Cream of the Crop also brought back so many of the characters from Nuts that I loved. It was fun to see what Roxie and Leo were up to. Plus, Chad Bowman. (I really, really want Chad Bowman's story!) Even that little cutie Polly made a few humorous appearances. 

Cream of the Crop had everything I love in a contemporary romance. It was fun, light and made me laugh. I would highly recommend it to anyone who likes humorous romances…or cheese. Even though it's the second book in the series with characters who overlap, it can totally be read as a standalone. Cream of the Crop would make the perfect summer read whether you're at the beach, on vacation or just relaxing at home.