Sex and the City meets The Wedding Planner in Lauren Layne's sizzling brand-new contemporary romance series The Wedding Belles, about three ambitious wedding planners who can make any bride's dream come true but their own. Leading us down the aisle with the second in the series, To Have and to Hold, Lauren Layne will rouse summer lists with a reception line of great reading as she "produces winner after winner" (Fiction Vixen).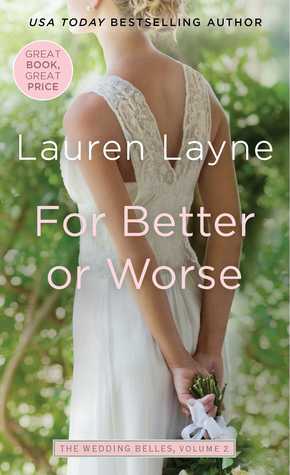 For Better or Worse
The Wedding Belles, Volume 2
Lauren Layne
Pocket Books
August 30, 2016
ISBN 9781501135156
$5.99
About FOR BETTER OR WORSE:
In For Better or Worse, the sexy second novel in USA Today bestselling author Lauren Layne's irresistible new series, an up-and-comer Wedding Belle butts heads with the literal guy next door. Will their brewing tension boil over into something more?
 He's driving her insane . . .
When small-town girl Heather Fowler finally gets promoted from elite Wedding Belles assistant to full-fledged planner, she's determined to put her best foot forward. Unfortunately, her first celebrity client demands an opulent black-tie affair at the Plaza…in three months. Heather's days become a flurry of cake tastings, dress fittings, RSVP cards, and bridal tantrums. But what she's really losing sleep over is the live music blaring from her playboy neighbor's apartment all night. Heather vows to put this entitled man-child in his place, whether he likes it or not.
But a little crazy might be just what she needs.
Five years ago, Josh Tanner was a young rising star on Wall Street, complete with the penthouse and the migraines. But a grim cancer diagnosis made him realize there's more to life than the corner office. He kicked the cancer and dedicated his life to following his passions; now, if he could just convince his pretty, workaholic neighbor to let loose, too. Once Heather begins to show him her softer side, Josh is surprised when he starts falling for the sweet, vulnerable woman hiding beneath those power suits. Soon it's Heather's turn to convince Josh to take the biggest risk of all: love.
 For Better or Worse will have readers engaged from the start, and wedded to the idea of a summer and fall season filled with Wedding Belles!
REVIEW:
Rating: ★ ★ ★ ★ ★
Get ready for the gushing because I absolutely adored this new release by Lauren Layne! I don't know how she does it, but each book she writes just gets better and better. For Better or Worse might just be my favorite novel by her yet!
For Better or Worse was so much fun to read! I loved the main characters, Heather and Josh. I enjoyed the build up of their relationship. Their banter was witty and sexy. Each had insecurities they were dealing with. Those insecurities added a deeper level to the story without taking the fun away from it.
I couldn't get enough of this book. I read it from beginning to end without putting it down. It made me smile so much! It was everything I like in a Contemporary Romance. It was cute, light-hearted, funny and sweet. It made me so excited to read the next book in this series!
For Better or Worse is a must read for Contemporary Romance lovers.
** I received an ARC from the publisher via NetGalley in exchange for an unbiased review.
PRAISE FOR THE WEDDING BELLES:
"This engaging tale has a light, fun style…enough teases are given about the other "Wedding Belles" to create genuine interest in where their stories lead."
—Publishers Weekly (To Have and to Hold)
"There are family and friends, coworkers, people that aren't as they seem, wedding information galore, dinners, drinks, chocolate, fear, anger, hurt, sadness, secrets, lies, deceit, tears, laughter, happiness, romance, loving and love…I look forward to reading the next two books in the series, For Better or Worse and To Love and to Cherish…I look forward to seeing what the Wedding Belles will be up to next!"
—Romance Junkies (To Have and to Hold)
"Layne packs as much into this sexually charged and emotionally intense novella (an introduction to her upcoming Wedding Belles series) as most authors do in a full novel…The heat between [Leah & Jason] is enough to melt steel, and the emotional connection and psychological struggles will keep readers engaged."
—Publishers Weekly STARRED REVIEW (From This Day Forward)
"[From This Day Forward] is trope-nip to me. Weddings/wedding planners, check. Second chances, check. Sassy heroine, check…As this book is the prequel to the forthcoming Wedding Belles, I cannot wait to get all of their stories!…From This Day Forward is 100% recommended for anyone who likes stories about weddings, stories about people who are a really good at their jobs, relationships that are a tad explosive both in and out of bed, and introductions to new tribes of characters to get to know over the next few books."
—Fresh Fiction "Fresh Pick" (From This Day Forward)
"From This Day Forward  is a delightful book. Now I can't wait for the other ones in this series…Lauren Layne hit it right on the nose on what goes on behind the scenes…Can Jason and Leah see wedding bells in their future? We can only hope and wait for the next book in the "Wedding Belles" series. From This Day Forward was a great kick-off to the series."
—Fresh Fiction (From This Day Forward)
About LAUREN LAYNE:
Lauren Layne is the USA Today bestselling author of the Sex, Love, and Stiletto contemporary romances and the all-new Pocket Books series The Wedding Belles. She lives in New York with her husband and spoiled Pomeranian. Visitlaurenlayne.com, meet the author on Facebook at LaurenLayneAuthor, or follow her on Twitter @_LaurenLayne.
Lauren Layne interviews with THE LIBRARIAN:
<iframe width="100%" height="180px" src="http://percolate.blogtalkradio.com/offsiteplayer?hostId=292263&episodeId=8970053" frameborder="0″ allowfullscreen></iframe>
BOUQUET GIVEAWAY:
The below blogs are hosting a Wedding Belles Bouquet Giveaway to celebrate the publication of the second in the series, For Better or Worse. The Wedding Belles Bouquet will include To Have and to Hold (7/26), For Better or Worse(8/30), and To Love and to Cherish (10/18). You can visit all sites on the Bouquet Giveaway Tour to enter to win–but keep in mind you can only win once! U.S. only. Each winner will receive one copy of each book during the week of its publication date.
Sunday, August 28th
Monday, August 29th
Tuesday, August 30th
Mrs. Leif's Two Fangs About It
Wednesday, August 31st
Thursday, September 1st
Friday, September 2nd
Saturday, September 3rd
Mrs. Leif's Two Fangs About It
Satisfaction for Insatiable Readers