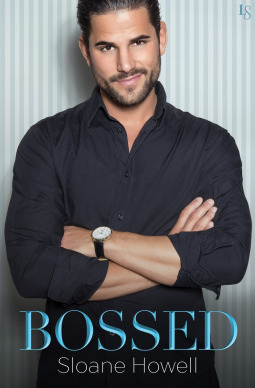 Bossed
Author: Sloane Howell
Publication Date: March 28, 2017
Publisher: Loveswept
Genre: Contemporary Romance
Note: I received an ARC from the publisher in exchange for an unbiased review.
Rating: ★ ★ ★ ★ ★
Synopsis:
He's the boss. But she's ready to take charge.

In this provocative and sexy* office romance, a cheeky new hire tempts a hotshot sports agent to mix business with pleasure.

Jenny: Job interviews are a bitch under the best of circumstances, but when your potential boss is the world's biggest prick, that's when you should simply walk away. It's just that I need this job so badly—and I'm mesmerized by Ethan Mason's piercing gaze. Men like him aren't supposed to exist in real life. But under the tailored suits and GQ looks, Ethan simmers with barely restrained ambition. And no matter how hard I work to fight the attraction, I'm going to get burned.

Ethan: You don't become a top agent without learning how to close a deal. I always get what—or who—I want, by staying cool and in command. Then Jenny Jackson walks into my office with her lush curves and "screw you" attitude and blows away my intentions of keeping things professional. All I can think about is exploring the perfect body hidden beneath those conservative clothes or shutting her saucy mouth with one hot kiss. Jenny's worth breaking the rules over—if I can convince her to break the rules for me.

*By sexy, we mean sexy. Like, 18+ sexy.
---
Sloane Howell has been in my Twitter feed a lot since I started book blogging, but until Bossed, I had never had the pleasure of reading one of his books. I was really missing out!
Bossed is an office romance about two strong-willed people who have very different ways of doing things. Ethan is a hard-nosed boss who expects a lot from his employees. He's not always the nicest guy, but he has their best interests at heart. Jenny is a new employee who thinks her co-workers deserve to be treated better. Ethan's tactics infuriate her, and she has no problem letting him know. Their constant facing off has them both hot and bothered.
I was so impressed with Bossed and Howell's writing. He rocked the first person, dual point of view narration. I've read many contemporary romances by women where they write from a male point of view, but I don't know that I've read many of a female one written by a man. Honestly, I wouldn't have been able to tell if a man or woman wrote this book. Hopefully, that doesn't sound bad. It's meant to be a compliment. I was super impressed with how he wrote a female character.
Every single character and moment in this story was amazing. Jenny and Ethan both had tough pasts to deal with. Jenny also had a tough present. Their problems didn't stop the chemistry from flowing between them from the moment they met. The push and pull of their relationship was very fun. It made the dialog between them incredibly witty and entertaining. I also loved the ups and downs of their relationship.
While I loved Jenny and Ethan's relationship, there was something I loved even more about this book. There was great mixture of sports, family, and friendship involved in it. I loved how they both went to their friends for advice, and the strength of Jenny's relationship with her dad. I also loved that Jenny and Ethan had more than great sex in common. Their shared love of baseball was cool. I felt like if they were a real life couple, they would make it because it wasn't all about the sex — even if that was off the charts sexy!
Bossed was as close to contemporary romance perfection as it could get. It was witty, sexy and had just the right amount of drama. It even made me tear up a bit. It's one of the best office romances I've read in a while. Contemporary romances readers are sure to love it.