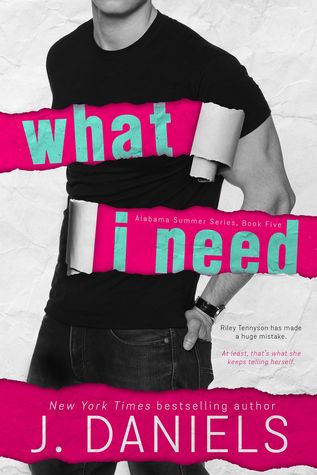 What I Need
Series: Alabama Summer, #5
Author: J. Daniels
Publication Date: March 5, 2017
Genre: New Adult, Contemporary Romance
Rating: ★ ★ ★ ★ ★
Synopsis:
From New York Times bestselling author, J. Daniels, comes a sexy new STANDALONE novel.

Riley Tennyson has made a huge mistake.

At least, that's what she keeps telling herself.

Showing up to her brother's wedding pissed off and newly single, Riley seeks comfort in solitude and an open bar, until the gorgeous and irresistibly charming CJ Tully makes her a better offer―a wild night with the master of smooth-talking where nothing is off limits.

Riley does what any single woman would do, and a connection is made. One neither one of them can ignore. But when she comes home to the boyfriend she no longer thought she had, Riley buries her secret and begs CJ to do the same.

Forget about each other. It was a mistake. That's all it was… right?

Desires are hidden. Distance is kept. Until one night CJ makes the ultimate sacrifice, and Riley can no longer avoid the man she can't stop thinking about.

Not with him sleeping down the hall…
---
It's only March, but I'm going to go ahead and say that What I Need is one of my favorite romance novels of the year. It was utter perfection. I've loved every book in this Alabama Summer series, but this one is by far my favorite. It was everything I love in a romance novel. It was well written, fast-paced, flirty, sexy, funny and a little deep. The characters were so wonderful, and their story was so much fun to read.
C.J. Tully just became one of my all time favorite book boyfriends. Everything about the guy was AMAZING. Seriously, he couldn't get any more perfect. He was a gorgeous physical specimen and an all around great guy. I loved being in his head and getting to know his thoughts on Riley. He was so intuitive and really got her. I absolutely loved what he was willing to do to make her his. Gah! I just can't even tell you how much I love C.J.! (I think I might need to make my husband start calling me "darlin'" now. I wonder if I could get him to learn a Southern accent? Because that nickname, though simple, has to be one of the hottest freaking nicknames I've read in a while. It probably wouldn't pack the same punch as it did coming out of C.J.'s mouth.)
I loved Riley almost as much as I loved C.J. She truly reminded me of my younger self with her apologies and willingness to accept what she thought was love. I could easily relate to some of the conversations she had with C.J. at the beginning of their getting to know each other. I got her, and it made the way C.J. dealt with her feel even more special to me.
C.J. and Riley's relationship was so freaking cute. Every moment of it made me smile. I loved their fun times together. I loved seeing their friendship develop. Most of all, I loved their sexual connection. Dang! It was hot. I'm surprised they didn't burn down C.J.'s house with the energy they were putting off.
It was also very fun to get little glimpses of all my favorite couples from the previous Alabama Summer books. The perfect amount of spotlight was put on them. There was enough catch up to find out where they were in life, but their lives didn't take over the story. Someone picking up What I Need as their first Alabama Summer book wouldn't be bogged down by past characters, and would feel right at home reading this book without knowing them.
I am so in love with this book. So. In. Love. I couldn't get enough of What I Need. I was so sad when I came to the end of it. I really, really wanted more of C.J. and Riley. My only consolation is that there is going to be a sixth book in the series. I cannot wait for C.J.'s brother's story. I'm hoping he's just as passionate as C.J. is.