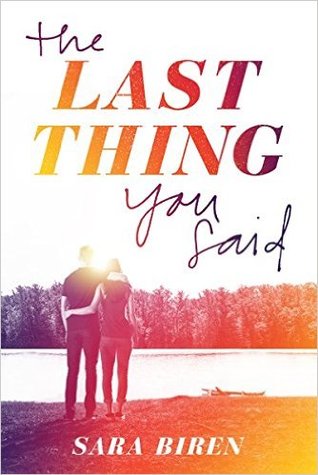 The Last Thing You Said
Author: Sara Biren
Publication Date: April 4, 2017
Publisher: Amulet Books
Genre: Young Adult, Contemporary Romance
Note: I received an ARC from the publisher via NetGalley in exchange for an unbiased review.
Rating: ★ ★ ★ ★ ★
Synopsis:
Last summer, Lucy's and Ben's lives changed in an instant. One moment, they were shyly flirting on a lake raft, finally about to admit their feelings to each other after years of yearning. In the next, Trixie—Lucy's best friend and Ben's sister—was gone, her heart giving out during a routine swim. And just like that, the idyllic world they knew turned upside down, and the would-be couple drifted apart, swallowed up by their grief. Now it's a year later in their small lake town, and as the anniversary of Trixie's death looms, Lucy and Ben's undeniable connection pulls them back together. They can't change what happened the day they lost Trixie, but the summer might finally bring them closer to healing—and to each other.
---
The Last Thing You Said is a coming of novel about two young people dealing with the grief of losing someone close to them. Lucy's life changed the moment she lost her best friend, Trixie. She no longer has the brave best friend by her side to give her courage. Not only did she lose Trixie, though. She also lost Trixie's brother, Ben.
Ben can't forgive himself for what he couldn't do the day Trixie died. His grief has caused him to push away the people he loved the most. One of those people is his sister's best friend, Lucy. He can't stop thinking about Lucy, but he knows there's nothing he can do to make up for the way he's acted.
After a year of carefully avoiding each other, Ben and Trixie are forced to see each other at their summer jobs. Despite the pain of the past year, neither can stop thinking about what could have been.
The Last Thing You Said broke my heart over and over again. It did it slowly, throughout the entire book. The pain each character felt crushed me and made me yearn for better times for Lucy and Ben. Their pain was so raw. I wanted to lock them in a room and force them to talk to each other.
Ben was a tough character to like. I wanted to give him a good shake! The way he treated Lucy and everyone around him was frustrating. I hated how he became dependent on alcohol to numb his pain. His way of coping hurt more than it helped, and it was painful to read. I wanted him to dig himself out of the hole he was creating.
I loved Lucy, but she made me so sad. I remember what it was like to have my heart-broken and I empathized with her pain. She knew the way he treated her was horrible and she shouldn't want to be with him anymore, but she couldn't stop her feelings for him. It was painful to feel her discomfort every time she saw Ben. I liked that Lucy tried hard to move on, even if the way she did it wasn't the best.
No matter how painful The Last Thing You Said was to read at times, I still loved it. Ben frustrated the heck out of me and Lucy made me want to cry, but I couldn't put the book down. I loved it. It was so beautifully written and filled with emotion. Even when I hated something a character was doing, I loved them. I wanted to see them overcome their problems and be happy.
I can't believe this is Sara Biren's debut novel. Reading The Last Thing You Said felt like reading a book from a seasoned author. It felt so real and raw. I'm incredibly excited to see what comes next from her.