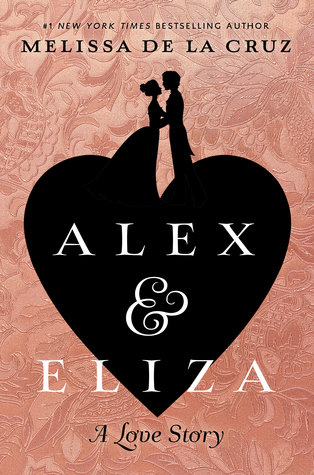 Alex & Eliza: A Love Story
Author: Melissa de la Cruz
Publication Date: April 11, 2017
Publisher: G.P. Putnum's Sons Books for Young Readers
Genre: Young Adult, Historical Fiction, Romance
Note: I received an ARC from the publisher via Goodreads in exchange for an unbiased review.
Rating: ★ ★ ★ ★ ★
Synopsis:
1777. Albany, New York.

As battle cries of the American Revolution echo in the distance, servants flutter about preparing for one of New York society's biggest events: the Schuylers' grand ball. Descended from two of the oldest and most distinguished bloodlines in New York, the Schuylers are proud to be one of their fledgling country's founding families, and even prouder still of their three daughters—Angelica, with her razor-sharp wit; Peggy, with her dazzling looks; and Eliza, whose beauty and charm rival that of both her sisters, though she'd rather be aiding the colonists' cause than dressing up for some silly ball.

Still, she can barely contain her excitement when she hears of the arrival of one Alexander Hamilton, a mysterious, rakish young colonel and General George Washington's right-hand man. Though Alex has arrived as the bearer of bad news for the Schuylers, he can't believe his luck—as an orphan, and a bastard one at that—to be in such esteemed company. And when Alex and Eliza meet that fateful night, so begins an epic love story that would forever change the course of American history.

In the pages of Alex and Eliza, #1 New York Times bestselling author Melissa de la Cruz brings to life the romance of young Alexander Hamilton and Elizabeth Schuyler.
---
I haven't seen Hamilton. I don't know much about Alexander Hamilton. What I do know is that I loved this take on his relationship with Elizabeth Schuyler.
I'm not one immediately pulled in by historical fiction. It usually takes me a while to get into the time period, but Alex and Eliza captured my attention from the start. It was beautifully written and completely enchanting. It may have been based in the past, but the writing felt fresh and new.
Everything about the characters made me want to know more about their story. Eliza was a strong, somewhat outspoken young woman of her time. The way she stood up for her beliefs was inspirational. Alex wasn't quite the war hero he wanted to be, but his book smarts were impressive, as was the way he was infatuated with Eliza. I loved how Alex & Eliza began with their first meeting and impressions of each other, and then ended with their marriage. I'm not sure how much of Melissa de la Cruz's account was real and how much she crafted, but the relationship felt like it naturally progressed. All of the little bits of drama were fun and important to the story.
Eliza and Alex weren't the only stars of this story. I absolutely loved Eliza's sisters. They had such strong personalities of their own. Their stories seemed just as important as Eliza and Alex's. If Melissa de la Cruz were to write their stories, I would be quick to read them!
Alex & Eliza was a truly delightful read. It was a captivating historical love story that all readers are sure to enjoy.