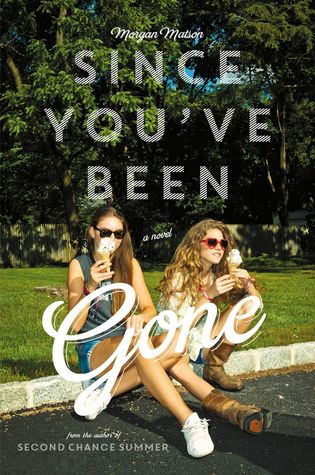 Since You've Been Gone
Author: Morgan Matson
Publication Date: May 6, 2014
Publisher: Simon & Schuster
Genre: Young Adult, Contemporary, Romance
Rating: ★ ★ ★ ★ ☆
Synopsis:
It was Sloane who yanked Emily out of her shell and made life 100% interesting. But right before what should have been the most epic summer, Sloane just…disappears. All she leaves behind is a to-do list.

On it, thirteen Sloane-inspired tasks that Emily would normally never try. But what if they could bring her best friend back?

Apple picking at night? Okay, easy enough.

Dance until dawn? Sure. Why not?

Kiss a stranger? Um…

Emily now has this unexpected summer, and the help of Frank Porter (totally unexpected), to check things off Sloane's list. Who knows what she'll find?

Go skinny-dipping? Wait…what?
---
I'm going to admit something very crazy. I had never read a book by Morgan Matson before Since You've Been Gone. I don't have any good excuses. Since You've Been Gone has been sitting on my shelf for well over a year. I'm just happy I finally read it.
Since You've Been Gone is a coming of age novel about finding yourself. Emily has lived in her best friend Sloane's shadow for the past two years. That's been fine with Emily. She was more than happy to be the sidekick. But when Sloane suddenly disappears at the beginning of summer break, Emily's distraught. Not only is she concerned about and missing Sloane, she's suddenly all alone. The only thing Emily has left of Sloane is a random and scandalous list of things Sloane wants her to do. As Emily begins to work on completing the list, she find herself making friends with a guy from school, Frank Porter. Frank surprisingly offers to help Emily complete her list. As the summer goes on, Emily discovers more about herself and the world around her.
My love for Since You've Been Gone wasn't immediate. To be honest, Emily really annoyed me at the beginning of the book. Her continued whining over Sloane and her absence drove me nuts. I know it was because I hadn't gotten to know her before Sloane's disappearance, but it grated on me for a bit. It wasn't until she started working on the list and all of the supporting characters started showing up that I started to fall in love with the story.
Once I got past the beginning, I absolutely loved Since You've Been Gone. I was surprised to see a lot of my younger self in Emily. I, too, had a friend whose shadow I was content to live under in my school days. I empathized with Emily's discomfort when she had to figure out how to be without Sloane, and make new friends. I can remember going through that and how tough it was. But, just like Emily, once I had been through it I was a stronger me. I loved the way Morgan Matson portrayed Emily's growth as a person throughout this story.
Another thing I loved about this story were the other characters. Every one of them was so vivid and entertaining. I loved Collins and his absurdity. Frank was my favorite, though. His friendship with Emily was really sweet. He was a stand up guy. I loved their running program and the playlists they shared.
Since You've Been Gone may not have started strong, but it definitely ended that way. It had a great message and was beautifully written. It's a book that I would highly recommend to teenagers (and adults!). I loved it.