Thank you to Sheri @ Read in a Flash! for tagging me for The Goodreads Book Tag. I've done this tag before, but it's been a while. I'm excited to see if my answers have changed at all.
---
WHAT WAS THE LAST BOOK YOU MARKED AS 'READ'?
When It's Real wasn't the last book I finished reading, but it was the last book I marked "read" on Goodreads.
WHAT ARE YOU CURRENTLY READING?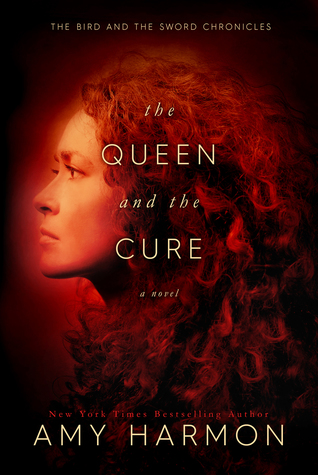 I am currently reading The Queen and the Cure as a buddy read.
WHAT WAS THE LAST BOOK YOU MARKED AS TBR?
This is really strange because it's been on my mental TBR for a long time, but A Girl Like Me.
WHAT BOOK DO YOU PLAN TO READ NEXT?
My next read will most likely be Last Semester. It will work for my debut author bingo spot in the 2017 New Adult Challenge.
DO YOU USE THE STAR RATING SYSTEM?
Yes. I'm a high rater. A book pretty much has to suck for me to rate it 2 or less stars.
ARE YOU DOING A 2017 READING CHALLENGE?
Yes, I'm about 45% of the way to my goal.
DO YOU HAVE A WISHLIST?
Um, not really. Well, maybe a mental one.
WHAT BOOK DO YOU PLAN TO BUY NEXT?
I don't know. I don't really plan to buy books unless I pre-order them. It's usually a spur of the moment thing.
DO YOU HAVE ANY FAVORITE QUOTES? SHARE A FEW.
I felt like I had to search for some different ones than I used last time, so here you go…

"Bendy straws are the shit, dude."
-Kim Holden, Gus
"There's a difference between soul mates and true love. Looking at the surface, they are similar, but when I dug deep down inside, I found they were different.
Is one type of love better than the other? I don't know but I'm lucky enough to have found them both."
-Lisa De Jong, When it Rains
"He was living, breathing poetry. Not love poetry, but the poetry which tears out your heart, rips it to shreds, pushes it back into your chest, and makes you question what the hell just obliterated your soul."
Tillie Cole, Sweet Hope
WHO ARE YOUR FAVORITE AUTHORS?
This is the worst thing to ask a reader. This time, I'm going to list a few of my favorite author collaborations.
Elle Kennedy & Sarina Bowen
Erin Watt (Elle Kennedy & Jen Frederick)
Max Monroe
Krista & Becca Ritchie
Who am I forgetting?
HAVE YOU JOINED ANY GROUPS?
I've joined a bunch of them and used to participate a lot, but now the only one I really participate in is Young Adult Contemporary Romance. I love those ladies!
---
I tag:
I'm going to try to tag people that I didn't tag last time…
Angie Elle @ Books & Beauty Are My Bag
Debby @ Always Booking
Lenore @ Celebrity Readers
Susan @ Susan Loves Books