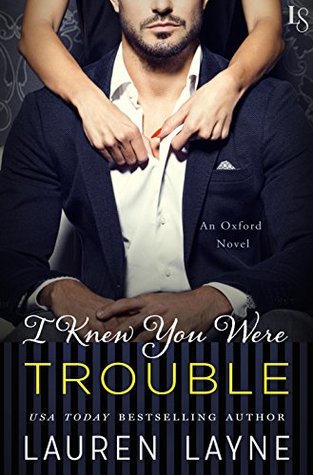 I Knew You Were Trouble
Series: Oxford, #4
Author: Lauren Layne
Publication Date: June 13, 2017
Publisher: Loveswept
Genre: Contemporary Romance
Note: I received an ARC from the publisher via NetGalley in exchange for an unbiased review.
Rating: ★ ★ ★ ★ ★
Synopsis:
New York City's hottest bachelors are stirring up trouble in this fun, flirty Oxford Novel, as a love triangle forces a feisty beauty to choose between winning back Mr. Right or giving in to Mr. Wrong.

Taylor Carr has it all—a sleek job in advertising, a stunning Manhattan apartment, and the perfect man to share it with: Bradley Calloway. Even after Bradley dumps her for a co-worker on move-in day, Taylor isn't worried. She'll get her man eventually. In the meantime, she needs a new roommate. Enter Nick Ballantine, career bartender, freelance writer—and longtime pain in Taylor's ass. Sexy in a permanent five-o'clock-shadow kind of way, Nick knows how to push Taylor's buttons, as if he could see right through to the real her.

Nick's always trying to fix people, and nobody could use a good fixing more than Taylor. Sure, she's gorgeous, with mesmerizing silver eyes, but it's her vulnerability that kills him. Now that they're shacking up together, the chemistry is out of control. Soon they're putting every part of their two-bedroom apartment to good use. Then Taylor's ex comes crawling back to her, and Nick figures she'll jump at the chance to go back to her old life—unless he fights for the best thing that ever happened to him.
---
I Knew You Were Trouble is an excellent example of why Lauren Layne is a queen of contemporary romance. Each book she writes gets better and better. I didn't think another Oxford novel could top Lincoln Mathis and Someone Like You, but I was wrong. I Knew You Were Trouble was just as amazing, if not even better than Someone Like You.
It doesn't matter who the characters are, or what the situation holds for them, Layne makes me fall in love with their story. I Knew You Were Trouble showcased this by taking a smart and beautiful but somewhat cold woman and making me empathize with her. I didn't love how cold Taylor could be, but I got it. She had a tough life, and what she thought she wanted wasn't always what was best for her. I loved how having her nemesis move in and taunt her in ways she didn't want changed her. It was fun to see her character progress through so many emotions throughout the book.
As for Taylor's enemy, Nick was way hotter and cooler than I remember him from Someone Like You. He had his own issues, but I loved how he helped Taylor come to terms with hers. They way he pushed her was frustratingly hot. I couldn't get over their witty banter. It made the story fly by. Nick and Taylor's chemistry was undeniable, and those steamy sex scenes proved it.
My favorite part of I Knew You Were Trouble had to be the climax. I saw it coming, but didn't expect it to play out the way it did. It was so creatively set up. I really loved how it ended up resolving.
I loved everything about I Knew You Were Trouble. It was another great office romance. It held my attention from the beginning and never let go. I read it in one sitting, and couldn't have put it down if I wanted to. I'm really hoping this book will not be the end of the Oxford series. I would love another book or two in this series!