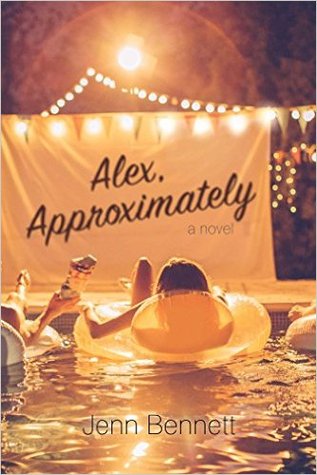 Alex, Approximately
Author: Jenn Bennett
Publication Date: April 4, 2017
Publisher: Simon Pulse
Genre: Young Adult, Contemporary Romance
Rating: ★ ★ ★ ★ ★
Synopsis:
The one guy Bailey Rydell can't stand is actually the boy of her dreams—she just doesn't know it yet.

Classic movie fan Bailey "Mink" Rydell has spent months crushing on a witty film geek she only knows online as Alex. Two coasts separate the teens until Bailey moves in with her dad, who lives in the same California surfing town as her online crush.

Faced with doubts (what if he's a creep in real life—or worse?), Bailey doesn't tell Alex she's moved to his hometown. Or that she's landed a job at the local tourist-trap museum. Or that she's being heckled daily by the irritatingly hot museum security guard, Porter Roth—a.k.a. her new archnemesis. But life is whole lot messier than the movies, especially when Bailey discovers that tricky fine line between hate, love, and whatever it is she's starting to feel for Porter.

And as the summer months go by, Bailey must choose whether to cling to a dreamy online fantasy in Alex or take a risk on an imperfect reality with Porter. The choice is both simpler and more complicated than she realizes, because Porter Roth is hiding a secret of his own: Porter is Alex…Approximately.
---
Alex, Approximately has been on my radar since prior to its release. First, it was the adorable cover that caught my eye. Then, it was all the amazing reviews it was getting. Almost every blogger was raving about it. I knew I had to read it, so I requested it from the library. It only took two and a half months for my hold to come through, but I finally got to read it.
The book blurb pretty much gives the story away for Alex, Approximately. That should ruin the story, but it doesn't. It only adds to the fun of it. While you know who Porter and Bailey really are, they don't. Their relationship progresses naturally from enemies to friends to more. It was cute and sweet and oh so much fun to read.
This book is the perfect summer read. It's set in a beach side town filled with great destinations, shops and the beach itself. Even Bailey's accessories are somehow perfectly fitting for the scene. The setting adds so much to this story, and made me crave a trip to the beach.
Bailey has personality. She had her own style, her love of old movies and an evading tactic that made her stand out. Despite being an introvert, she shined the most in social situations. Maybe it was her awkwardness in them that made those moments so much fun to read. The best ones were with Porter. He brought out the best and the worst in Bailey.
Porter was a gem. I couldn't help but love him. He could be a jerk, but it was in a slightly cocky way that felt perfect for a teenage boy. There was also a softer side to him that came out around Bailey. I loved how he was always trying to protect her. He was just so dang charming!
Alex, Approximately had more going for it than just Porter and Bailey's romance. It was filled with important friendships and family dynamics. Bailey quickly made a new friend in Grace. They really clicked and I loved watching their friendship develop. Bailey was also rediscovering her relationship with her father, and each moment they spent navigating it was fun. I did wish I got to see a little bit of her mother, but her father more than made up for that. Porter's relationship with his family was also included and I loved meeting all of them.
I loved everything about Alex, Approximately. If you're looking for a cute summer YA contemporary romance, this is one you shouldn't pass up.