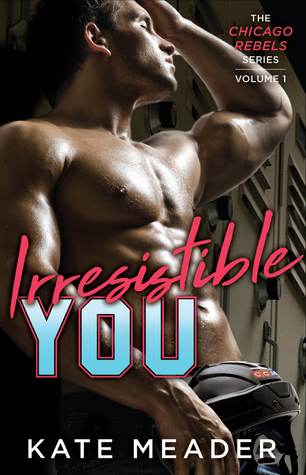 Irresistible You
Series: Chicago Rebels, #1
Author: Kate Meader
Publication Date: August 14, 2017
Publisher: Pocket Star
Genre: Romance, Contemporary, Sports
Note: I received an ARC from the publisher via NetGalley in exchange for an unbiased review.
Rating: ★ ★ ★ ★ ☆
Synopsis:
Harper Chase has just become the most powerful woman in the NHL after the death of her father Clifford Chase, maverick owner of the Chicago Rebels. But the team is a hot mess—underfunded, overweight, and close to tapping out of the league. Hell-bent on turning the luckless franchise around, Harper won't let anything stand in her way. Not her gender, not her sisters, and especially not a veteran player with an attitude problem, a chip on his shoulder, and a smoldering gaze designed to melt her ice-compacted defenses.

Veteran center Remy "Jinx" DuPre is on the downside of a career that's seen him win big sponsorships, fans' hearts, and more than a few notches on his stick. Only one goal has eluded him: the Stanley Cup. Sure, he's been labeled as the unluckiest guy in the league, but with his recent streak of good play, he knows this is his year. So why the hell is he being shunted off to a failing hockey franchise run by a ball-buster in heels? And is she seriously expecting him to lead her band of misfit losers to a coveted spot in the playoffs?

He'd have a better chance of leading Harper on a merry skate to his bed…
---
You probably know by now that I'm a sucker for a hockey romance. Hockey players are the hottest romance heroes. They ooze self-confidence and have some extremely sexy bodies. Plus, they usually have some super sweet emotions hiding deep down. Since I love them so much, I'm always excited to find a new series to swoon over. I've definitely found one of those in the Chicago Rebels.
Irresistible You is a hockey romance featuring a female team owner and her reluctant star player. When Harper Chase inherits her father's professional hockey team, she should be happy. It's been her dream forever. Instead she's frustrated and overwhelmed. The team should have been Harper's free and clear. Instead she's stuck sharing ownership with her two estranged half-sisters and fighting to accomplish an almost unheard of task her father set up in order to keep her team. Harper's not going down without a fight, and she's acquired the player she knows will lead her team to victory.
Remy DuPre has one last season in him. It's finally his turn to win the Stanley Cup and he's not letting being traded to Chicago ruin his plans. He'll put in his time with his new team if it means being traded to a better team later.
Remy and Harper start as adversaries, but soon find themselves enjoying their bickering. There's an attraction beneath their feud, and when they act on their desires everything changes. What they both thought they wanted may not really be what they need.
Irresistible You started out a little slow for me. There was so much background to cover behind the characters' initial feelings that I didn't immediately connect with them. It took me a few chapters to begin to like both Harper and Remy. Once I learned the history behind their intentions, I fell in love with their story. I loved them both — Harper with her determination and insecurities and Remy with his cocky exterior and sweet interior. They were so cute together. Well, cute and super sexy. Those two had chemistry!
The history behind Harper's family, her father's will and her relationship with her sisters really intrigued me. I wanted to know more about it all. I felt like this book only brushed the surface. I know there's at least two more books to come, so I'm sure I'll get the story.
Irresistible You had a little bit of everything going for it. The writing was great, the characters were interesting, and the sexy times were super sexy. I have a feeling the series is going to get better and better as it goes on. I'm excited to read what's next. If you like hockey romances, this is one I would recommend.