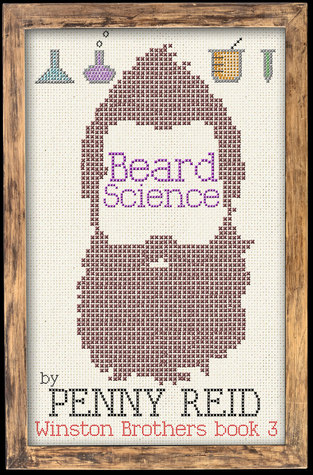 Beard Science
Series: Winston Brothers, #3
Author: Penny Reid
Publication Date: October 11, 2016
Publisher: Penny Reid
Genre: Romance, Contemporary, New Adult, Humor
Rating: ★ ★ ★ ★ ★
Synopsis:
Make a deal with the devil and you might get what you want, but will it be what you need?

Jennifer Sylvester wants one thing, and that one thing is NOT to be Tennessee's reigning Banana Cake Queen. Ever the perpetual good girl and obedient daughter, Jennifer is buckling under the weight of her social media celebrity, her mother's ambitions, and her father's puritanical mandates. Jennifer is officially desperate.

And desperate times call for Cletus Winston.

Cletus Winston is a puzzle wrapped in a mystery covered in conundrum sauce, and now he's in a pickle. Despite being convinced of his own omniscience, extortion by the exalted Banana Cake Queen of Green Valley has taken him completely by surprise. So… what's a maniacal mastermind to do?

Likely, the last thing you expect.
---
Move over Duane and Jethro, there's a new favorite Winston in the house!
Cletus Winston is unlike any other book character I've come across. He's eccentric, but his oddities mask the genius within. Cletus is perfectly happy hiding in plain sight if it means he can put his secret plans in motion. No one, besides his family, knows what Cletus is capable of.
No one except Jennifer Sylvester that is. Banana Cake Queen Jennifer may be the local celebrity, but she's not exactly sought after. Everyone looks past her and considers her to be just a pretty face. Jennifer, like Cletus, has more going on behind her mask than people believe. Jennifer watches people. She's knows what Cletus is up to. She's smart and might just be able to give Cletus Winston a taste of his own medicine when she blackmails Cletus into helping her find a husband.
Cletus and Jennifer were a match made in book heaven. Seriously. These two were so perfect together. They were both smart and weird in the best of ways. I can't even begin to tell you how much I loved their story and the time it took for them to realize what they had found in each other. It was such a fun journey — my favorite book in the series so far!
If you're a fan of romantic comedies, you're going to want to read this book and the entire Winston Brothers series. It's non-stop laughs and love.