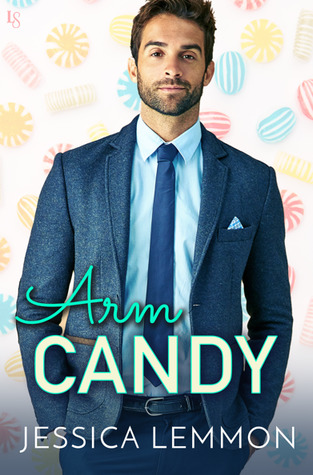 Arm Candy
Series: Real Love, #2
Author: Jessica Lemmon
Publication Date: September 5, 2017
Publisher: Loveswept
Genre: Romance, Contemporary
Note: I received an ARC from the publisher via NetGalley in exchange for an unbiased review.
Rating: ★ ★ ★ ★
Synopsis:
Last call! At the end of the night, a clean-cut hunk and a rebellious bartender act on their unlikely chemistry in this frisky standalone novel from the author of Eye Candy.

Davis: I've had my eye on Grace Buchanan for a while now. Unlike the bubbly blondes I usually date, the feisty, flame-haired bartender both intrigues and bewilders me. Something about Grace—the tattoos? the nose ring?—makes every part of me sit up and beg. There's only one problem: She hates me. Trading insults and one-liners has become our M.O. But when Grace bets me that I can't get a date with a non-blonde if my life depends on it, I'm determined to prove her wrong by landing the ultimate non-blonde: her.

Grace: I'm used to regulars hitting on me, and I've turned them all down, except for one: Davis Price. I like giving him a hard time, and he's kind of cute in his suit and tie—if you're into that kind of thing. Anyway, I don't care how many blondes he takes home . . . until one of them sidles up to him in my bar. Nuh-uh. But after my little bet with Davis backfires, our first date lands us in the sack. So does the second. And the third. Neither of us wants more than the best sex of our lives. The trouble is, it's not a question of what I want. It's what I need. And what I need is Davis.
---
Okay. So I have to admit that I was a little worried going into Arm Candy. You see, Jessica Lemmon is one of my go-to contemporary romance authors, and the first book in the Real Love series was not my favorite. It was good, but not the great I have come to expect from Lemmon. I didn't need to worry. Arm Candy was exactly what I'm expecting when I pick up one of her books.
In Eye Candy, we first met Davis and Grace. Davis was Vince's best friend and Grace was their local bartender. Davis obviously had a thing for Grace, but there was something keeping him from acting on his attraction. Fast forward now to Arm Candy. Davis still isn't ready to break the mold of petite blondes he dates, but Grace issues him a challenge. Soon Davis and Grace are going out on a date and surpassing the bickering banter they exchange at the bar.
This book totally surpassed my expectations for it. Arm Candy was classic Jessica Lemmon and I loved it. The humor and witty dialog woven into the story was fantastic. I couldn't get enough of Davis and Grace's conversations. They were both such great characters. Davis was a hard worker. He had been jilted by love in the past, but that didn't stop him from giving his all to Grace. Grace was a little more hesitant and held her feelings closer to her chest. I loved that their feelings and relationship blossomed in a very realistic way.
Another person I adored was Davis' grandmother. She was a hoot! Her presence in the story was perfect. I do wish she would have played an even bigger part in Arm Candy, though. I loved her so much!
The one thing I should point out is that there wasn't as much drama in Arm Candy as I expected. Well, there was drama. It just didn't feel like there was ever a gigantic moment of it. It felt like their should have been more of an explosion at the climax, but I actually appreciated that there wasn't. The problem of the story felt just as real as the build up of Davis and Grace's relationship.
I'm really happy I continued with the Real Love series. I wouldn't have wanted to miss out on Davis and Grace's story. I can't wait to see what's next for the series.