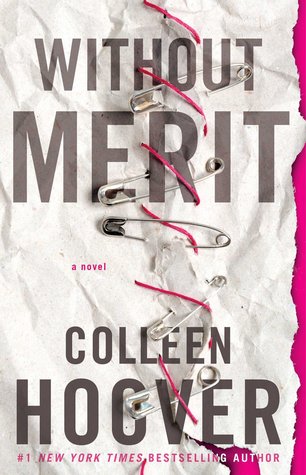 Without Merit
Author: Colleen Hoover
Publication Date: October 3, 2017
Publisher: Atria Books
Genre: Young Adult, Fiction, Contemporary, New Adult
Rating: ★ ★ ★
Synopsis:
Not every mistake deserves a consequence. Sometimes the only thing it deserves is forgiveness.

The Voss family is anything but normal. They live in a repurposed church, newly baptized Dollar Voss. The once cancer-stricken mother lives in the basement, the father is married to the mother's former nurse, the little half-brother isn't allowed to do or eat anything fun, and the eldest siblings are irritatingly perfect. Then, there's Merit.

Merit Voss collects trophies she hasn't earned and secrets her family forces her to keep. While browsing the local antiques shop for her next trophy, she finds Sagan. His wit and unapologetic idealism disarm and spark renewed life into her—until she discovers that he's completely unavailable. Merit retreats deeper into herself, watching her family from the sidelines when she learns a secret that no trophy in the world can fix.

Fed up with the lies, Merit decides to shatter the happy family illusion that she's never been a part of before leaving them behind for good. When her escape plan fails, Merit is forced to deal with the staggering consequences of telling the truth and losing the one boy she loves.
---
I'm not quite sure what to say about this book. I wanted to love it, but I didn't. I didn't hate it either, though. Without Merit  fell in the realms of "Huh…Well, that was interesting." Interesting because I didn't have strong feelings about it one way or the other.
When Without Merit started off, I was a little surprised at the writing. It wasn't what I have come to expect from Colleen Hoover. I'm not sure if that's because this book was marketed as a YA novel (I still think it falls in the NA category, but that's just me.), or because it felt almost like a one big stream of consciousness. I felt like I was living in Merit's rambling brain, and it was a little exhausting. I did get some relief when she was interacting with other characters. Thank goodness.
I didn't immediately like Merit. It's probably safe to say that I never liked her at all. I never connected with her. I understood her thoughts and feelings and how her life was shaped, but that didn't endear her to me. She had some hard truths to deal with, and I commend her for finally standing up for herself and telling her family how she felt. Setting herself free allowed her to grow and make new discoveries about the life she lived.
As for the other characters, I didn't like them either. They were just as messed up as Merit. I was curious about their secrets, though. That's probably what kept my attention. I needed to know who they were and what they had done. Well, I did like Sagan. He seemed like a great guy and his advice was priceless.
Without Merit touches on some tough topics, and it did that in a way I haven't seen before. Whether or not it will resonate with readers is hard to say. I liked the outcome of the story, but I felt like so many things were glossed over too quickly. Mainly Merit's depression. I won't go into it too much because I don't want to give anything away, but I didn't feel like her condition and her actions were taken seriously enough. Maybe that's because everyone in the story was messed up. I don't know. I did like the advice Merit was given toward the end and how the truth changed how she perceived everything.
Without Merit most likely isn't going to be one of those books everyone falls in love with. It's one of those books you have to read for yourself and craft your own opinions about. I am sure there are going to be a ton of people this book helps with healing. There's going to be another set of people it alarms. I don't feel there's a right or wrong way to feel about this book. It just didn't have much impact on me personally.