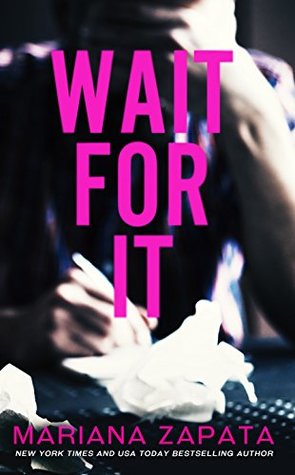 Wait for It
Author: Mariana Zapata
Publication Date: December 7, 2016
Genre: Contemporary Romance, New Adult, Sports
Rating: ★ ★ ★ ★ ★
Synopsis:
If anyone ever said being an adult was easy, they hadn't been one long enough. Diana Casillas can admit it: she doesn't know what the hell she's doing half the time. How she's made it through the last two years of her life without killing anyone is nothing short of a miracle. Being a grown-up wasn't supposed to be so hard. With a new house, two little boys she inherited the most painful possible way, a giant dog, a job she usually loves, more than enough family, and friends, she has almost everything she could ever ask for. Except for a boyfriend. Or a husband. But who needs either one of those?
---
Earlier this week, I reviewed Mariana Zapata's The Wall of Winnipeg and Me. I loved it so much that I decided to read another one of her books. I chose Wait for It. I had no idea when I did that the main character, Diana, was the same Diana who was Vanessa's best friend in The Wall of Winnipeg and Me. The realization made me even more excited about reading Wait for It.
Wait for It, Diana's life is very different from it was in The Wall of Winnipeg and Me . She's still the same fun, sassy person she was, but her priorities have changed. She's now the guardian of her two nephews. Diana is determined to give them the best life she can. Being a single parent will be tough, be she's got it handled.
When Diana and her boys move into a new house, she's not exactly thrilled by the neighbors she meets. One is Dallas, a cranky guy who has the wrong impression of her. Diana's prepared to handle that, but when Dallas ends up being her nephew's select baseball coach avoiding him gets tougher.That's a good thing because Dallas might just be the answers to her prayers.
I cannot praise Mariana Zapata's writing enough. She creates the most amazing characters and stories. Her romances are more than just romances. They're journeys of growth and discovery. I love how she slowly builds relationships and strengthens them. Diana and Dallas were the perfect example of this. They didn't really like each other at the beginning. It took a while for them to truly get to know each other. Their relationship was built on trust and love. It was such an amazing slow burn.
I also loved that the athlete in the story was Diana's nephew. As a parent of a select soccer player, I appreciated the description of what it was like having a kid who plays a sport seriously. I could really relate to everything Diana felt about it. Oh, and I related to pretty much EVERYTHING kid related. Parents work hard.
Wait for It was just as an amazing story as The Wall of Winnipeg. I adored everything about it. I am going to continue my Mariana Zapata binge read. I need to read Kulti next because I just found out it's about Diana's famous cousin!!!