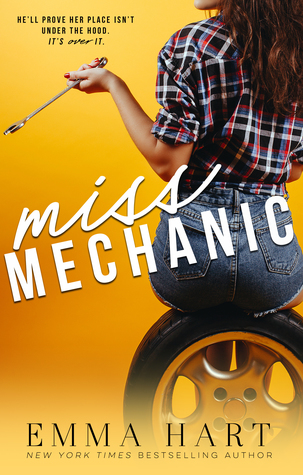 Miss Mechanic
Author: Emma Hart
Publication Date: December 12, 2017
Genre: Contemporary Romance
Rating: ★ ★ ★ ★ ½
Synopsis:
Two mechanics. One rivalry.
She'll prove she's as good as she says she is.
He'll prove her place isn't under the hood.
It's over it.

"Don't let the bastards get you down."
For twenty-six years, I lived by my daddy's motto. Which is why "Mechanic Wanted" is all it takes for me to apply for the job at the garage we once owned.
And I meet the biggest bastard of them all.
Dexter Ryne. Hotter than Hell in July and a firm believer that my place is on reception, taking phone calls and looking pretty. Not getting dirty under the hood of a car.
Determined to prove each other wrong, we make a deal.
I have three weeks to prove my worth as a mechanic. If I don't, I'm on telephone duty.
If I do, he'll accept defeat and make my job permanent.
Now, all I have to do is fight my attraction to the cocky little… beep.
Problem is, an engine isn't the only thing he knows how to make purr…
---
A while ago my blogger friend Cristina told me I needed to read Emma Hart's Miss Fixit. I completely trust her opinion on books, so I immediately read it…and fell in love with it. When I heard Emma Hart was coming out with a new book, I had to pick up Miss Mechanic. Unfortunately, it took me a month or so to get to it.
I was hoping Miss Mechanic was going to be a spin-off of Miss Fixit. It wasn't, but that ended up being okay. It was still hilarious. It made me smile and laugh so much. I adored the love-hate thing Jamie and Dex had going on. They  had such chemistry! Miss Mechanic was such a fun read. It got me out of a book slump I was in. It's definitely a book I would recommend to readers who like romantic comedy.
---
---
Caraval
Author: Stephanie Garber
Narrator: Rebecca Soler
Publication Date: January 31, 2017
Publisher: Macmillan Audio
Genre: Young Adult, Fantasy, Romance
Rating: ★ ★ ★ ½
Synopsis:
Welcome, welcome to Caraval! Stephanie Garber's sweeping tale of two sisters who escape their ruthless father when they enter the dangerous intrigue of a legendary game.

Scarlett has never left the tiny island where she and her beloved sister, Tella, live with their powerful, and cruel, father. Now Scarlett's father has arranged a marriage for her, and Scarlett thinks her dreams of seeing Caraval, the far-away, once-a-year performance where the audience participates in the show, are over.

But this year, Scarlett's long-dreamt of invitation finally arrives. With the help of a mysterious sailor, Tella whisks Scarlett away to the show. Only, as soon as they arrive, Tella is kidnapped by Caraval's mastermind organizer, Legend. It turns out that this season's Caraval revolves around Tella, and whoever finds her first is the winner.

Scarlett has been told that everything that happens during Caraval is only an elaborate performance. But she nevertheless becomes enmeshed in a game of love, heartbreak, and magic with the other players in the game. And whether Caraval is real or not, she must find Tella before the five nights of the game are over, a dangerous domino effect of consequences is set off, and her sister disappears forever.
---
My feelings about Caraval are complicated. I enjoyed it for the most part. The world of Caraval was beautifully created and the story well crafted. My issue with it was that parts of it dragged. I felt myself getting bored right before all the big action parts. If it wasn't for those action parts, I might have not finished the book. Which would have been sad because the ending was quite good. I also want to mention that the narrator, Rebecca Soler, was amazing.
I'm really happy I decided to listen to Caraval. It was an interesting ride!
---
---
The Vincent Boys
Series: The Vincent Boys, #1
Author: Abbi Glines
Narrators: Kirby Hayborne, Shayna, Thibodeaux
Publication Date: October, 12, 2011
Genre: Young Adult, Contemporary, Romance
Rating: ★ ★ ★ ★ ★
Synopsis:
Just when you thought things couldn't get any hotter…Beau and Ash's sinful romance now includes super scandalizing, never-before-published scenes in this special, eBook-only companion to the steamy printed original.

There was something wicked about Beau that drew me to him. What was wrong with me? Why did I want to sin so badly?

Ashton is getting tired of being good, of impressing her parents and playing ideal girlfriend to Sawyer Vincent. Sawyer is perfect, a regular Prince Charming, but when he leaves town for the summer, it's his cousin Beau who catches Ashton's eye. Beau is the sexiest guy she's ever seen, and even though he's dangerous, Ashton is drawn to him.

Beau loves his cousin like a brother, so the last thing he wants to do is make a move on Sawyer's girl. Ashton is off-limits, absolutely. That's why he does his best to keep his distance, even though he's been in love with her forever. When Ashton wants to rekindle their childhood friendship in Sawyer's absence, Beau knows he should say no.

Ashton and Beau don't want to hurt Sawyer. But the more they try to stay away from each other, the more intense their urges become. It's getting way too hard to resist…
---
OMG. The Vincent Boys is a total guilty pleasure. I was surprised at how much I loved it. I decided to listen to it because it was the only book I was slightly interested in on Overdrive. I wasn't sure I would like it because of the love triangle, but I did. The love triangle didn't bother me at all. I think it was because of the nature of Sawyer and Ashton's relationship. Plus, for most of the book Sawyer wasn't even around. I loved Beau and Ashton together so much. If you're looking for a fun YA contemporary romance, you should try this one out!
---
---
The Vincent Brothers
Series: The Vincent Boys, #2
Author: Abbi Glines
Narrators: Kirby Hayborne, Shayna, Thibodeaux
Publication Date: June 2012
Genre: Young Adult, Contemporary, Romance
Rating: ★ ★ ★ ★ ★
Synopsis:
Getting a boy to fall head-over-heels in love with you isn't easy. Especially when he's been in love with your cousin for as long as you can remember.

Lana has lived her life in her cousin's shadow. Ashton always made perfect grades, had tons of friends, and looks model-perfect. And she's always had Sawyer Vincent—the only boy Lana's ever wanted—wrapped around her finger. But now things are different. Lana has a chance to make Sawyer see her, and she's taking it. If only he'd get over Ashton—because Lana is sick of second-best.

Sawyer's heart is broken. He's lost his best girl to his best friend. And then Lana comes to town. Ashton's cousin has always been sweet and soft-spoken, but now she's drop-dead gorgeous as well. Sawyer doesn't know if Lana can heal his broken heart, but spending time with her might at least make Ashton jealous.

What starts as a carefree fling becomes a lusty game of seduction. Sawyer and Lana may have different motives, but their scintillating hookups are the same kind of steamy. . . .
---
The Vincent Brothers was a great follow up to The Vincent Boys. It was just as addictive. I was so happy that Sawyer got a book. His feelings were so raw and brutal. After his loss in the first book, I wanted him to find his truth. I love that Lana was the one to help him find it.