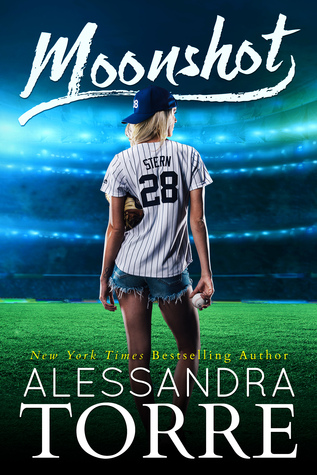 Moonshot
Author: Alessandra Torre
Publication Date: July 4, 2016
Genre: New Adult, Contemporary, Sports Romance, Suspense,

Rating: ★ ★ ★ ★
Synopsis:
Baseball isn't supposed to be a game of life and death…

The summer that Chase Stern entered my life, I was seventeen. The daughter of a legend, the Yankees were my family, their stadium my home, their dugout my workplace. My focus was on the game. Chase… he started out as a distraction. A distraction with sex appeal poured into every inch of his six foot frame. A distraction who played like a god and partied like a devil.

I tried to stay away. I couldn't.

Then, the team started losing.
Women started dying.
And everything in my world broke apart.
---
Before I start my review, I have to comment on the cover of Moonshot. It is absolutely gorgeous and it fits the book perfectly. Honestly, it's what originally drew me to the book. Now, for the insides of it…
Moonshot is the first book I have read by Alessandra Torre. I heard her stuff was twisty and sometimes infuriating, but I still didn't really have any expectations for it. Moonshot wowed me right from the beginning. I loved Alessandra Torre's writing! It put a spell on me because, even when I didn't like the situations going on, I couldn't put the book down. I had to know how everything was going to play out.
Moonshot kept me on my toes. For the majority of the book, I had no idea what was going on. I knew by the foreshadowing that it couldn't be as simple of a story as it seemed. Each twist came out of nowhere. Even the ones I might have guessed ahead of time still managed to shock me. I was so impressed by that.
I loved Tyler and Chase. The evolution of both of their characters throughout this book was cool. Their forbidden romance made me uneasy at times, but I could feel their connection and truly believed in their love.
Another thing I enjoyed about Moonshot was the baseball. It was cool how the story was shaped around it. I loved all the little tidbits about it the were included. When I read that some of the information came from Torre's husband's time as a ball boy, I was even more impressed. It was just a really great addition.
So if Moonshot was so brilliant, why the 4 stars? Well, it all had to do with the tropes (yes, there were more than just forbidden love) and situations going on in this book. I won't say exactly what they were because I don't want to ruin anything, but they were ones I normally wouldn't choose to read. They made me slightly uncomfortable.
Moonshot was a great introduction to Alessandra Torre's writing for me. It was such a fascinating story. I'm looking forward to reading more of her novels.