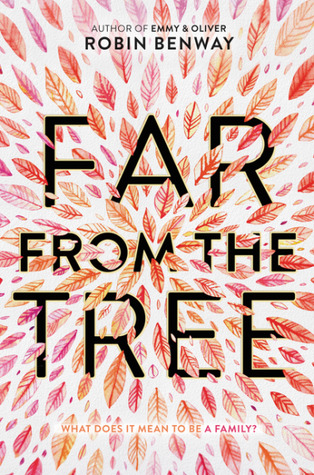 Far from the Tree
Author: Robin Benway
Publication Date: October 3, 2017
Publisher: HarperTeen
Genre: Young Adult, Contemporary, Fiction
Rating: ★ ★ ★ ★ ★
Synopsis:
A contemporary novel about three adopted siblings who find each other at just the right moment.

Being the middle child has its ups and downs.

But for Grace, an only child who was adopted at birth, discovering that she is a middle child is a different ride altogether. After putting her own baby up for adoption, she goes looking for her biological family, including—

Maya, her loudmouthed younger bio sister, who has a lot to say about their newfound family ties. Having grown up the snarky brunette in a house full of chipper redheads, she's quick to search for traces of herself among these not-quite-strangers. And when her adopted family's long-buried problems begin to explode to the surface, Maya can't help but wonder where exactly it is that she belongs.

And Joaquin, their stoic older bio brother, who has no interest in bonding over their shared biological mother. After seventeen years in the foster care system, he's learned that there are no heroes, and secrets and fears are best kept close to the vest, where they can't hurt anyone but him.
---
Far from the Tree is about three biological siblings who have been raised in three separate homes. After giving her own baby up for adoption, Grace is desperate to find her biological mother. In her quest, she discovers she has two siblings: Joaquin and Maya. Grace and Maya were each adopted at birth. Joaquin, the oldest of three, was raised in the foster care system. As they get to know each other, the siblings begin to discover their similarities, their differences, and what family really is.
So here's the deal. I just… I don't even know how to put into words how I feel about Far from the Tree. Please forgive me if this review rambles or makes no sense. Far from the Tree broke me in so many different ways.
First, it broke me because I ached for Grace. Grace's story was the one I was most curious about. After having my own child, I cannot imagine giving up a child — especially one I desperately wanted — no matter how much I knew it would be the best thing for that child. It would kill me. Grace's experience brought me to tears more than once.
Second, I'm an adoptee. While I haven't been through much of what happened to Grace, Maya, and Joaquin, I have felt some of the feelings they felt. Maya's thoughts were the ones I could relate to the most. Our situations were the most similar. We are both adoptees whose adoptive parents went on to have biological children of their own. Maya's thoughts gave validity to ones I have felt in the past. Her feelings combined with those of Joaquin and Grace touched something deep inside me.
Third, Joaquin's whole situation hurt. I can't imagine what it would be like to live in his world. It makes me ache for all the foster care children out there. I want an adoption as amazing as mine for them.
My review is making Far from the Tree a complete downer. It's not. There's heartache, but there are so many amazing moments. The characters learn so much about themselves and what family and loving someone means.
I was a fan of Robin Benway's writing from her début novel, Emmy & Oliver, but Far from the tree blew me away. It is my favorite book I've ever read about adoptees. It encompassed so many different feelings surrounding being adopted. In my opinion, Far from the Tree was perfection. It's a very special book.