God-Shaped Hole
Author: Tiffanie De Bartolo
Publication Date: May 1, 2002
Publisher: Sourcebooks Landmark
Genre: Contemporary, Romance, Fiction
Rating: ★ ★ ★ ★
Synopsis:
If your intentions are pure
I am seeking a friend
For the end of the world

When Beatrice Jordan meets the unpredictable Jacob Grace, the two wild souls become instant allies. Together they discover an escape in each other's creativity and insecurities, while running from secrets they cannot seem to shake – or a fate that could throw them to the ground…
Review:
Huh… I'm not really sure what to say about God-Shaped Hole. I had a hard time deciding if I loved or hated it. I'm leaning heavily toward loved. It was so…odd. Well, not really. It just made me feel odd. The characters were kind of off-putting but somehow endearing. I can't even explain it. It's definitely one of those books that left me thinking after I finished it. I imagine I felt somewhat like Beatrice did in the end.
If you're curious about this book and thinking of reading it, the writing is really good. It reminds me of a "lighter" Tarryn Fisher book. That's high praise from me.
---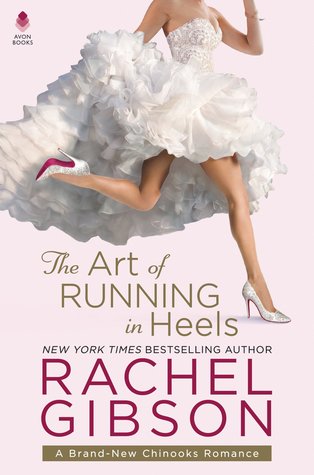 The Art of Running in Heels
Series: Chinooks Hockey Team
Author: Rachel Gibson
Publication Date: December 26, 2017
Publisher: Avon
Genre: Contemporary Romance, Sports
Rating: ★ ★ ★ ★ ★
Synopsis:
Running in five-inch stilettos is an art form

Leaving your fiancé at the altar on live television is a disaster. Lexie Kowalsky thought she was ready to get married in front of millions of people, but at the last minute she fled the set of television's hottest reality show, Gettin' Hitched. Wearing a poofy white dress and a pair of five-inch sparkly shoes, Lexie hopped a float plane for Sandspit, Canada. She figured no one would find her there. But she was wrong.

Sharing her flight was the Seattle Chinooks biggest star, Sean Knox. Lexie wasn't just a reality-show runaway, she was his pain in the butt coach's daughter. She was chaos and temptation and definitely off limits, but getting her luscious body out of that wedding gown, he couldn't resist getting her in his bed for one amazing night.

Then a photo of Sean and Lexi breaks the internet—and suddenly they're both swept up in a crazy plan to spin the whole story. But you can't run from love—
Review:
It's been years since Rachel Gibson released a Chinooks Hockey Team novel, and I had forgotten just how much I loved this series! I was really impressed with how it moved into present day. It incorporated some of my favorite characters along with awesome new ones. I loved Lexi and Sean's romance. The reality T.V. show and hockey aspects of this story were so much fun! I laughed so many times at all of the crazy things that happened. If you're a fan of the this series, you'll love returning to it. If you haven't read Rachel Gibson before, this wouldn't be a bad place to start.
P.S. I feel like I need to point out that this book is written in third person. Normally, that's not my favorite style of writing, but Rachel Gibson makes it work. I didn't even notice it! That shows what a great writer she is.
---
Beneath the Truth
Series: Beneath, #7
Author: Meghan March
Narrators: Sebastian York, Andi Arndt
Publication Date: August 8, 2017
Publisher: Meghan March
Genre: Contemporary Romance
Rating: ★ ★ ★ ★
Synopsis:
From author Meghan March comes the final sexy stand-alone set in the Beneath world of New Orleans.

I used to believe there were lines in life you don't cross. Don't lie. Don't cheat. Don't steal. Until I learned people don't always practice what they preach. I turned in my badge and gun and walked away from everything. Then I got the call no one wants, and I'm back in New Orleans. What I don't expect is for her to be here, too. Another line you don't cross? Don't touch your best friend's little sister. She's always been off-limits. Too bad I don't follow the rules anymore.
Review:
Beneath the Truth carried on the Beneath series tradition by keeping things a little suspenseful, a lot sexy, and wonderfully narrated. I liked getting to know Rhett Hennessy better. Ariel was the perfect match for him. I loved that she was his best friend's younger sister. That was cute. The romantic suspense part of this book was done well, and parts of it shocked me. Overall, this was another fun addition and great ending to the series.