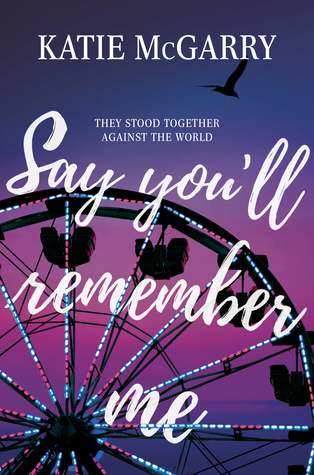 Say You'll Remember Me
Author: Katie McGarry
Publication Date: January 30, 2018
Publisher: Harlequin Teen
Genre: Young Adult, Contemporary Romance
Rating: ★ ★ ★ ★
Synopsis:
When Drix was convicted of a crime–one he didn't commit–he thought his life was over. But opportunity came with the new Second Chance Program, the governor's newest pet project to get delinquents off the streets, rehabilitated and back into society. Drix knows this is his chance to get his life back on track, even if it means being paraded in front of reporters for a while.

Elle knows she lives a life of privilege. As the governor's daughter, she can open doors with her name alone. But the expectations and pressure to be someone she isn't may be too much to handle. She wants to follow her own path, whatever that means.

When Drix and Elle meet, their connection is immediate, but so are their problems. Drix is not the type of boy Elle's parents have in mind for her, and Elle is not the kind of girl who can understand Drix's messy life.

But sometimes love can breach all barriers.

Fighting against a society that can't imagine them together, Drix and Elle must push themselves–Drix to confront the truth of the robbery, and Elle to assert her independence–and each other to finally get what they deserve.
---
Say You'll Remember Me is a tough book to review because it wasn't exactly a happy read. It was chock full of deep emotional stuff. I was somewhat expecting that from Katie McGarry because she always makes great statements with her writing. What I didn't expect was for it to make the story feel so heavy.
The forbidden love aspect of Say You'll Remember Me was well done. It had me on edge the entire book. I'm a worrier, and I worried for Drix and Elle. I didn't want anything ruining what they had, but I also didn't want anything ruining their future. It was so stressful!
I adored Drix and Elle. Both were fiercely loyal to their family, even when they shouldn't have been. They really loved and cared for the people in their lives, and wanted to do right by them. I also loved that they thought of the world outside of themselves. That was very mature for a couple of seventeen year olds. Drix and Elle weren't perfect, though. They both let themselves be taken advantage of. That drove me crazy.
Surprisingly the parents were really involved in this book. Drix's emotionally from afar, and Elle's were all up in her business. I hurt for Drix because all of his siblings had been abandoned by their parents, but at least they were better off without them. Elle's parents were too into what made them look good and not what was best for their daughter. That was really sad to me. I hope I'm never like that as a parent. Drix and Elle's parents were exact opposites in parenting, and it was interesting to see how that shaped them and their lives.
Say You'll Remember Me wasn't quite the summer romance I was expecting, but I still really enjoyed it. It is a great book if you're looking for a summer read with depth that's not so light and fluffy.