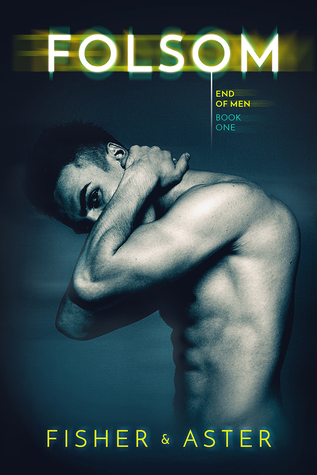 Folsom
Series: End of Men, #1
Authors: Tarryn Fisher, Willow Aster
Publication Date: May 29, 2018
Genre: Romance, Science Fiction, Fantasy
Rating: ★ ★ ★ ★ ★
Synopsis:
The nation as we know it is a thing of the past.

With the male species on the verge of extinction, a society called the End Men is formed to save the world. Folsom Donahue is one of twelve men whose sole purpose is to repopulate the Regions. The endless days spent having sex with strangers leaves Folsom with an emptiness no amount of women, money, or status can fill.

Until Gwen.

Gwen has wanted a child for as long as she can remember, but when she finally gets a chance to have her own, she uncovers a long hidden truth. The injustice she sees moves her to help save the men whom no one else believes need saving.

A forbidden love, grown in a time of despair, ignites a revolution.

Folsom and Gwen, torn between their love for each other and their sense of duty, must make a choice. But some will stop at nothing to destroy them.
---
I have so much to say about Folsom, and I think the best way to do that is to break this review down piece by piece for you. Here we go!
The collaboration: Tarryn Fisher and Willow Aster's writing melded perfectly together. I couldn't tell where one author ended and the other began. That's exactly what I'm looking for when two authors write a book together. Their writing was flawless and kept me wanting more.
The setting: I'm not a science fiction or fantasy reader. I've read several of the most hyped dystopian series and liked them, but they're not books I normally gravitate to. I was surprised by how much I loved the dystopian setting of Folsom. The age of women was so unique and so cool. I was surprised by how interested I was in it.
The story: It was so unique! It's the age of woman and there's not enough men. They've all died off with the exception of the End Men. These guys move yearly to new regions to try and impregnate as many women as possible. They're hoping to create baby boys to help carry on the human race. Folsom is moved to the Red Region where he meets Gwen. Their meeting changes the way both of them think about the End Men and how society is living. I loved it!
The characters: Folsom's job was a little disturbing at times (that's just coming from a monogamous woman's thoughts), but I enjoyed reading how his feelings about it changed over time. I loved how he was with Gwen. His true personality came out then. Gwen was a spitfire. I loved how she stood up for her beliefs. The rest of the characters, good and bad, fit the story well and added some really good drama.
The love story: It's hard to imagine falling for a man with such a promiscuous job, but Gwen's attraction to and immediate bonding with Folsom made it easy to accept. I loved how falling for Gwen brought the spark back to Folsom's life. It was so different, yet so sweet. I adored them together. I wanted more time with them that way.
The surprises: There were several, and I wasn't expecting them all. I loved being surprised – especially by the ending! I wasn't expecting it to turn out the way it did. I am so excited to read the next book!
Overall: If you're a fan of these authors, you will like Folsom even if dystopian novels are not your thing. I'm proof of that. Folsom was an addictive read that kept me turning page after page. I loved everything about it.