Earlier this month, I posted mini reviews for the first three books in the Pucked series. Today, I'm back with mini reviews for the next three books. You can find my reviews for books 1 – 3 HERE.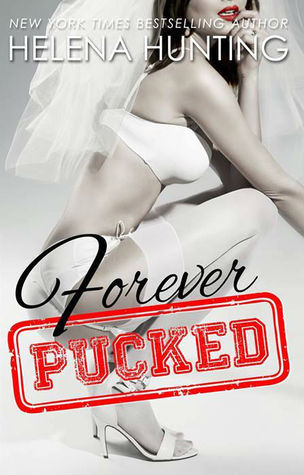 Forever Pucked
Series: Pucked, #4
Author: Helena Hunting
Publication Date: March 29, 2016
Publisher: Helena Hunting
Genre: New Adult, Contemporary Romance, Sports
Rating: ★ ★ ★

Synopsis:
Being engaged to Alex Waters, team captain and the highest paid NHL player in the league, is awesome. How could it not be?

In addition to being an amazing hockey player, he's an incurable romantic with an XL heart, and an XXL hockey stick in his pants. And he knows how to use it. Incredibly, orgasmically well. Alex is the whole package and more. Literally. Like his package is insane. Total world record holder material.

So it makes complete sense that Violet Hall can't wait to nail him down to the matrimonial mattress and become Mrs. Violet Waters.

It's so romantic.

Violet is totally stoked to set a date.

Eventually. At some point. Likely before the next millennium. Or when Violet stops getting hives every time someone brings up the wedding, and their mothers stop colluding on stadium sized venues. Whichever comes first.
Review:
Back to beavers, MCs and Area 51. Once again, those terms overshadowed Violet and Alex's story. This book was a fun addition to their story from book one. I loved the situations they were put in. I liked how they each grew individually and together. I just wish there weren't so may beaver and MC references.
---
Pucked Under
Series: Pucked, #5
Author: Helena Hunting
Publication Date: July 7, 2016
Publisher: Ink & Cupcakes, Inc.
Genre: New Adult, Contemporary Romance, Sports
Rating: ★ ★ ★ ★ ★

Synopsis:
Randy Ballistic and Lily LeBlanc are head-over-heels, bed-breakingly, screaming orgasmically in love. But even they have their challenges, mostly outside of the bedroom.

With the off-season coming to a close and the boys gearing up for training camp, one more weekend of fun is the perfect way to welcome the new season.

The entire crew piles into vehicles and drives to Alex and Violet's Chicago cottage for a few days of relaxation—and hopefully a chance for Randy to shake the anxiety that's been plaguing him.

Accidental wardrobe malfunctions, typical Violet inspired overshares, and a whole lot of private time round out the perfect weekend getaway.

But the moment they return to the city all of Randy's angst resurfaces with the arrival of a surprise houseguest.
Review:
I adored this novella. Lucy and Randy are my favorite couple in this series so far. They're story is so cute and sexy. I liked how Randy's family added the drama to this book and how it all turned out. My only complaint about this one was I wanted it to be longer!
---
Pucked Off
Series: Pucked, #5
Author: Helena Hunting
Publication Date: February 21, 2017
Publisher: Ink & Cupcakes, Inc.
Genre: New Adult, Contemporary Romance, Sports
Rating: ★ ★ ★ ★ ½

Synopsis:
I'm NHL defenseman Lance Romero, AKA Lance "Romance."

I'm notorious for parties and excess. I have the most penalty minutes in the league. I get into the most fights. I take the most hits. I'm a player on and off the ice. I'm the one women with no inhibitions want.

Not because I like the notoriety, but because I don't know how to be any other way.

I have secrets. Ones I shared with the wrong person, and she used them against me. Sometimes she still does. I should cut ties. But she makes it difficult, because she's the kind of bad I deserve.

At least that's what I believed until someone from my past gets caught up in my present. She's all the good things in this world. She lights up my dark.

I shouldn't want her.

But I do.

I should leave her alone.

But I won't.
Review:
This was my favorite book in the Pucked series. I could really see Helena Hunting's growth as an author in this one. I adored Lance and I'm so happy he found that special woman for him. He deserved her and to be happy. Their story was so sweet. My only issue with this book was that I felt the evil person in it needed to be dealt with in a harsher, legal way. Other than that, this book was perfection!