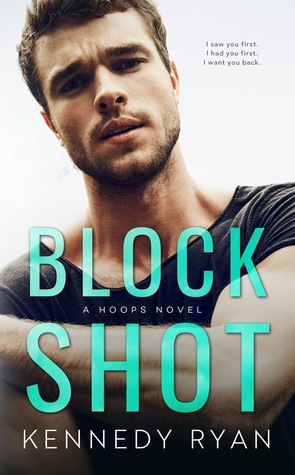 Block Shot
Series: A HOOPS Novel, #2
Author: Kennedy Ryan
Publication Date: September 10, 2018
Genre: Contemporary Romance, Fiction, Sports
Note: This review is for an ARC and is my unbiased opinion.
Rating: ★ ★ ★ ★
Synopsis:
JARED

If I had a dollar for every time Banner Morales made my heart skip a beat…
The heart everyone assumes is frozen over.
Her anger is…arousing.
Every glare from those fire-spitting eyes, every time she grits her teeth, gets me…well, you know.
If I had a dollar for every time she's put me in my place, I'd be an even richer man.
I'm a successful sports agent because I assume "no" means you'll think about it.
I'm sure what you meant to say is "Coming right up."
They say even rich men don't always get what they want, but those men don't know how to play the game. The trick is to keep them guessing.
Take Banner. She assumes she's winning, but this game?
She doesn't even know how to play.

BANNER

If I had a dollar for every time Jared Foster broke my heart, I'd have exactly one dollar.
One night. One epic fail. One dollar…and I'm out.
I've moved on.
I've found success in a field ruled by men.
Anything they can do, I have done better.
They can keep the field while I call the shots, blocking them when I have to.
And Jared has the nerve to think he gets a second chance?
Boy, please. Go sit down. Have several seats.
I'll just be over here ignoring the man carved from my fantasies with a lust-tipped chisel.
Oh, I didn't say the struggle wasn't real.
But I've got that one dollar, and Jared won't have me.
---
If you have never read a book by Kennedy Ryan, you are truly missing out. She is a phenomenal writer. The books she writes are the total package. Her stories are romances with powerful messages. There's a social awareness to them that make them stand out. Her words and the stories they create are beautiful and impactful. I'm always a little nervous heading into one of her books because I know it's going to make me feel all the things. I was especially nervous (and excited) to start Block Shot after the emotional rollercoaster I experienced in Long Shot, the first HOOPS novel.
From the minute I started Block Shot, I was hooked on Banner and Jared's story. I loved how it started with their past. So much of their present was tied to their past. It influenced the way they dealt with each other, especially on Banner's side. It made me excited to find out how they would end up together.
For me, the thing (or person) that made Block Shot amazing was Banner. She is one of those characters that I can see bits and pieces of myself in. Banner walked a fine line between being self-confident and filled with doubt. She knew she slayed at parts of her life, and she knew what her downfalls were. I liked that because I think no matter how confident a woman portrays herself, there's always some insecurities hiding in the background. I loved how Banner took ownership of those negatives and put forth the effort to make them positives. It was inspiring to say the least.
My feelings for Jared are a little mixed. I had moments I loved him and moments I didn't. I, personally, wouldn't call him a swoon worthy main character. Jared was a highly flawed, like many of us are. He wasn't a good guy, but he never claimed to be. I respected that, but I also didn't like how he let that fact enable his decisions. Jared wasn't all bad, though. He didn't take the easy way out on anything. Jared worked hard for what he accomplished. The best thing about Jared was how he saw Banner.
Despite not falling completely in love with Jared's character, I did love his relationship with Banner. They were a great match. Their story surprised me, though. I didn't expect the nature of the obstacles that stood in their path. I should have known there wouldn't be an easy fix for them (This is a Kennedy Ryan novel, after all.), but I guessed I hoped there would be. Their initial problem was a simple misunderstanding. I should have known that wouldn't be the only thing they would face. There had to be some major hurdles and heartbreak. In the end, all of the good, the bad, and the ugly made for a touching love story.
There was only one thing that kept Block Shot from being a five-star read for me. A boundary was crossed that Banner tried to set with Jared. It was a boundary I believe in. I was disappointed that Jared had no problem using any excuse to cross that boundary. It made a big impression on how I felt about him and this book. His actions actually made me put the book down and walk away for a while because I was uncomfortable and afraid of what was to come. Everything that stemmed from his actions wasn't all his fault. Banner played a part as well, which honestly shocked me, so I have some negative feelings about her as well. I guess when it comes down to it, I think the book would have still been as impactful without this part. I can understand in the end why Kennedy Ryan made the choices she did, but it isn't something I love to read about.
Overall, Block Shot was a really great read. I loved the connection between Jared and Banner. I adored Banner and identified with her in so many ways. I know other women will, too. Honestly, that's the most important part of this story.
Download your copy today or read FREE in Kindle Unlimited!
*Special release price $2.99! Price goes up soon!
Amazon US | Amazon Worldwide |
Add to GoodReads
Enter the BLOCK SHOT BOSS Giveaway!
About Kennedy:
A Top 30 Amazon Bestseller, Kennedy Ryan writes about women from all walks of life, empowering them and placing them firmly at the center of each story and in charge of their own destinies. Her heroes respect, cherish and lose their minds for the women who capture their hearts.
She is a wife to her lifetime lover and mother to an extraordinary son. She has always leveraged her journalism background to write for charity and non-profit organizations, but enjoys writing to raise Autism awareness most. A contributor for Modern Mom Magazine and Frolic, Kennedy's writings have appeared in Chicken Soup for the Soul, USA Today and many others. The founder and executive director of a foundation serving Atlanta Autism families, she has appeared on Headline News, Montel Williams, NPR and other media outlets as an advocate for families living with autism.
Connect with Kennedy
Never Miss A Release! Follow Kennedy on BookBub: bookbub.com/authors/kennedy-ryan
New Release Txt: https://clk2.me/mgFv
Subscribe to Mailing List: http://bit.ly/2QjisCW
Reader Group: https://www.facebook.com/groups/681604768593989/
Instagram: www.instagram.com/kennedyryan1/
Facebook: https://www.facebook.com/KennedyRyanAuthor
Amazon: http://amzn.to/2Fvhqiz
Pinterest: www.pinterest.com/kennedyryan
Book+Main: https://bookandmainbites.com/kennedyryan
Website: http://kennedyryanwrites.com