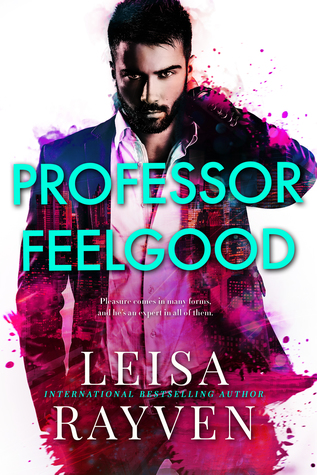 Professor Feelgood
Series: Masters of Love, #2
Author: Leisa Rayven
Publication Date: September 16, 2018
Genre: Contemporary Romance, Fiction
Note: This review is for an ARC and is my unbiased opinion.

Rating: ★ ★ ★ ★ ★

Synopsis:
What's a girl to do when a man who's countless shades of wrong feels oh-so-right?

Ambitious book editor Asha Tate is a hopeless romantic. Despite her mediocre track record with men, she believes in swooning, sighing, and the everlasting love of true soul mates. Sure, sex is okay, but she's not someone who's ever been driven by her animal urges.

Until now.

When Asha stumbles upon the scorching hot Instagram feed of someone calling himself Professor Feelgood, she falls in lust for the first time. Not only is she left panting over the professor's insane body, but his angst-filled poetry about losing his one true love speaks straight to her soul.

Desperately in need of a bestseller for her struggling publishing company, Asha knows the professor's potential to sell to his millions of loyal followers could be the lifeline her bosses need. However, the ink is barely dry on a book deal before she realizes she's made a terrible mistake. Sure, the professor is incredibly talented and sexier than any man has a right to be, but the man behind the persona isn't at all who she pictured. In real life, he's intense, arrogant and infuriating, and his uncanny ability to rub her the wrong way turns her dream project into a total nightmare.

Knowing that the professor is everything she doesn't want in a man should help Asha ignore her occasional urges to mount him, but she quickly learns that explosive, unwanted chemistry can make even smart people do stupid things.
---
You know that feeling when you find a new author you love and you immediately want to read their entire backlist? That's how I felt after reading Professor Feelgood by Leisa Rayven. I absolutely adored Professor Feelgood!
With a title like Professor Feelgood, I was expecting a super steamy read. What I got was an amazing slow burn romance. Professor Feelgood was more subtly sexy than anything. The combination of the Professor's writings and the love-hate thing going on between him and Asha drove that. Their chemistry (even when they were avoiding it) was palpable. There was this deep bond between them that was very special. It made for a great story and romance.
I can't say that I loved Asha at first. Not having read the first book in this series, I didn't have a connection with her prior. I felt a little behind in her personal story. That didn't matter that much because as the story went on I grew to know her and really like her. She had some hang ups I don't normally read much about and I liked how that helped progress the story a certain way.
The Professor was a character I loved from the start. He was moody and raw. He wore his heart on his sleeve — or on his Instagram really. I loved his posts and the story he wove through them. I liked him even more after finding out who he was. The Professor's identity took this book to a place I wasn't expecting and that was so cool!
I can't really say much more about Professor Feelgood because I don't want to give away the surprises this romance has in store for the reader. What I will say is that it was an incredibly fun read. Contemporary romance fans will swoon over it. It's made me want to go back and read not just the first book in this series, but all of Leisa Rayven's books. I also REALLY want to read the Professor's finished book!