This past July, I had the pleasure of attending Book Bonanza 2018 in Denver, Colorado. I got to meet many authors I have read and loved and some that I hadn't read yet. When I completed all the books I had to read for the month, I decide to take some time to read some of the authors from BB18 that I hadn't had a chance to yet. These are reviews for those books.
---
Impossible
Series: Huntsford Hearts, #1
Author: Laurel Ulen Curtis (aka Max of Max Monroe)
Publication Date: June 24, 2013
Publisher: CreateSpace
Genre: Contemporary Romance, Fiction

Rating: ★ ★ ★ ★
Synopsis:
One Accident. Two losses. Three years.

Veronica Russo chases storms, but runs from her past by staying firmly in the present. Unwilling to consider the possibility of a future, she's checked out of life by using solitude and standoffishness as her armor and a sharp tongue and quick wit as her weapons.

Coleman Cade is a walking contradiction- just like his mismatched eyes. A rough and manly bull rider with a playful side. A ladies man with thousands of willing victims, but what he really wants is one woman. The right woman.

Will Roni be able to let go, move on, and find a way to fulfill her dream of having everything? Or will unsubstantiated choices and unresolved demons stand in the way of their happily ever after?

In order to overcome past tragedies and find true happiness- in order to have Everything- Roni needs to do one thing. Find the impossible.
My review:
I love Max Monroe romantic comedies, so I was very interested in reading the books they wrote on their own. I started with Impossible. This book was so much fun to read. There were parts of it I didn't like (felt a little instant love-y, I didn't get the whole first meeting with CJ and then his dad, and then Coleman being slightly stalker-ish), but for the most part I loved it. There was just something about story. It was deeper than I was expecting. There was a twist at the end I totally didn't see coming. It was just such an entertaining read. I can't wait to discover more of Lauren Curtis' books.
---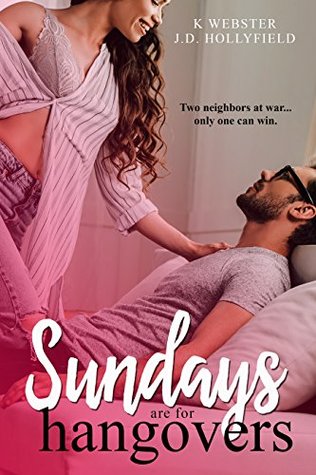 Sundays are For Hangovers
Authors: J.D. Hollyfied, K. Webster
Publication Date: May 21, 2018
Genre: Contemporary Romance, Fiction
Rating: ★ ★ ★ ★ ★
Synopsis:
For nearly a year, they've been at war.
Cops. Forks. Eggs.
Two feuding neighbors who couldn't be more opposite, forced to live next door to one another.
Neither is backing down.

She drives him crazy with her loud nineties rap music.
He gets under her skin the way he obsesses over his stupid perfect lawn.

She fantasizes about having sex with the hot nerd—but with duct tape over his dumb mouth.
He has dirty dreams of the bombshell beauty where he bangs the crazy right out of her—nightmares of course.
Anger isn't the only thing heating up between these two.

They think this is a battle only one of them can win…
The growing attraction between them, though, seems to be far more stubborn than the two of them combined.
My review:
To be honest, I hadn't heard of J.D. Hollyfield prior to BB18. My friend and I were eating in the hotel bar when we met her. We actually didn't realize she was an author. I just offered her half of my meal (that I hadn't touched) since the bar had stopped serving food. Weird, but I hated for it to go to waste! Anyways. After meeting her and seeing how cool she was, I decided to read one of her books.
I absolutely loved Sundays are for Hangovers. It was freaking hilarious! So, so funny. It was one of those perfect enemies to lovers stories. I couldn't get enough of it. I can't wait to read more from her! If you love a good romantic comedy, I highly recommend this book!
---
The Room Mate
Series: Roommates, #1
Author: Kendall Ryan
Publication Date: January 24, 2017
Genre: Contemporary Romance, Fiction
Rating: ★ ★ ★ ★

Synopsis:
The last time I saw my best friend's younger brother, he was a geek wearing braces. But when Cannon shows up to crash in my spare room, I get a swift reality check.

Now twenty-four, he's broad shouldered and masculine, and so sinfully sexy, I want to climb him like the jungle gyms we used to enjoy. At six-foot-something with lean muscles hiding under his T-shirt, a deep sexy voice, and full lips that pull into a smirk when he studies me, he's pure temptation.

Fresh out of a messy breakup, he doesn't want any entanglements. But I can resist, right?

I'm holding strong until the third night of our new arrangement when we get drunk and he confesses his biggest secret of all: he's cursed when it comes to sex. Apparently he's a god in bed, and women instantly fall in love with him.

I'm calling bullshit. In fact, I'm going to prove him wrong, and if I rack up a few much-needed orgasms in the process, all the better.

There's no way I'm going to fall in love with Cannon. But once we start… I realize betting against him may have been the biggest mistake of my life.
My review:
Okay, so I have read books by Kendall Ryan before. It's just been a really long time since I've picked one up. Since she was at BB18, I'm including my review in this post. 😉
When I first started this book, I wasn't sure it was going to be for me. I just wasn't that into Paige's character. She seemed a little boring to me. As the story went on, she grew on me. She was a normal person just like the rest of us. I liked how her relationship with Cannon progressed. I really liked his character. This was one of those simply fun romance reads to take your mind off of stuff.
---
Undefeated
Authors: Stuart Reardon, Jane Harvey-Berrick
Publication Date: January 23, 2018
Publisher: Stuart Reardon Publishing
Genre: Contemporary Romance, Sports, Fiction
Rating: DNF @ 8%
Synopsis:
When your world crashes down
When they all say you're out
When your body is broken
I will rise.
I will return.
And I will be undefeated.

Nick Renshaw is the golden boy of British rugby. When a serious injury threatens his career, he starts to spiral downwards, a broken man.

Abandoned and betrayed by those closest to him, he fights to restart his life. Maybe there's someone out there who can help him. Maybe he can find his way back toward the light. Maybe … not.

Dr. Anna Scott might be the one person who can help Nick, but she has her own secrets. And when Nick's past comes back to haunt them both, the enigmatic doctor is more vulnerable than she seems.

Broken and betrayed, the struggle to survive seems intolerable. Who will give in, and who will rise, undefeated?
My review:
I should probably have given this book more of a chance, but I just couldn't bring myself to do it. I couldn't really get into it. For me, a large part of that is that it written in third person. It made it hard to connect with the characters early on.